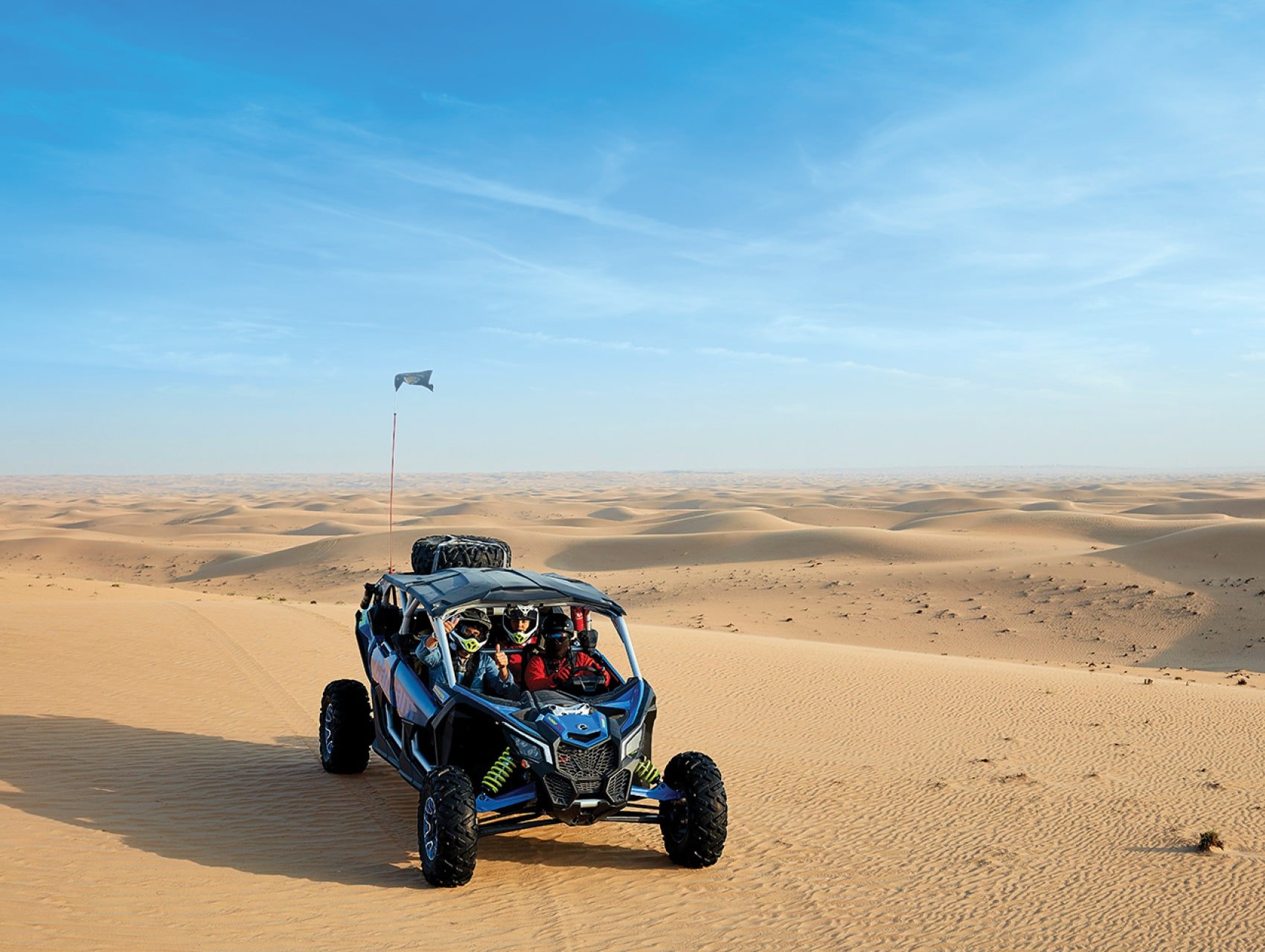 Have you tried a Dubai desert safari, and are now looking to take your adventure to the next level? Maybe this is your first time in the desert and you're seeking the most exciting experience available to you… rest-assured the Dubai-based team of destination experts at Arabian Adventures is here to help!
We run some of the top, desert safari experiences in Dubai in the city's surrounding, majestic Dubai Desert Conservation Reserve (DDCR). In this blog we're here to explain more about Arabian Adventures' Desert Dune Buggies, an unmissable experience in the UAE…
Adventurers assemble! Our desert dune buggies can take you on a thrilling ride across the beautiful Dubai desert, filled with sun, sand and adventure.
Why book with Arabian Adventures?
It's our personalised service and top-of-the-line equipment that sets our Desert Dune Buggies Safari apart. With Arabian Adventures, ride across the dunes of the most beautiful and ideal area of the Dubai desert for dune buggy driving, in the latest four-seater off-road dune buggies.
How does it work?
Your adventure starts well before you see the desert, as our expert guide will collect you from your home or hotel in a 4x4 made for desert adventures. Sit back and relax as you leave the city skyline behind and start your chauffeured drive into the Arabian Desert, with your guide pointing out key sights along the way, and answering any questions you have about the excitement that awaits.
After an approximate 45-minute drive from the centre of Dubai, you will arrive at Al Lisaili, a unique desert area on the edge of the DDCR and the home of Dubai's camel racing scene.
From there, you'll be taken to the briefing area where you will relax with a welcome drink whilst your guide takes you through a briefing based on your upcoming adventure. This information includes familiarising yourself with the Can-Am desert dune buggy, a driving tutorial, and information on all of its safety aspects. All dune buggies are 4-wheel drive and fully automatic; with seat belts, roll cages and off-road suspension. You will be provided with safety gear which includes disposable balaclavas, helmets and goggles, and details about the exciting route which awaits…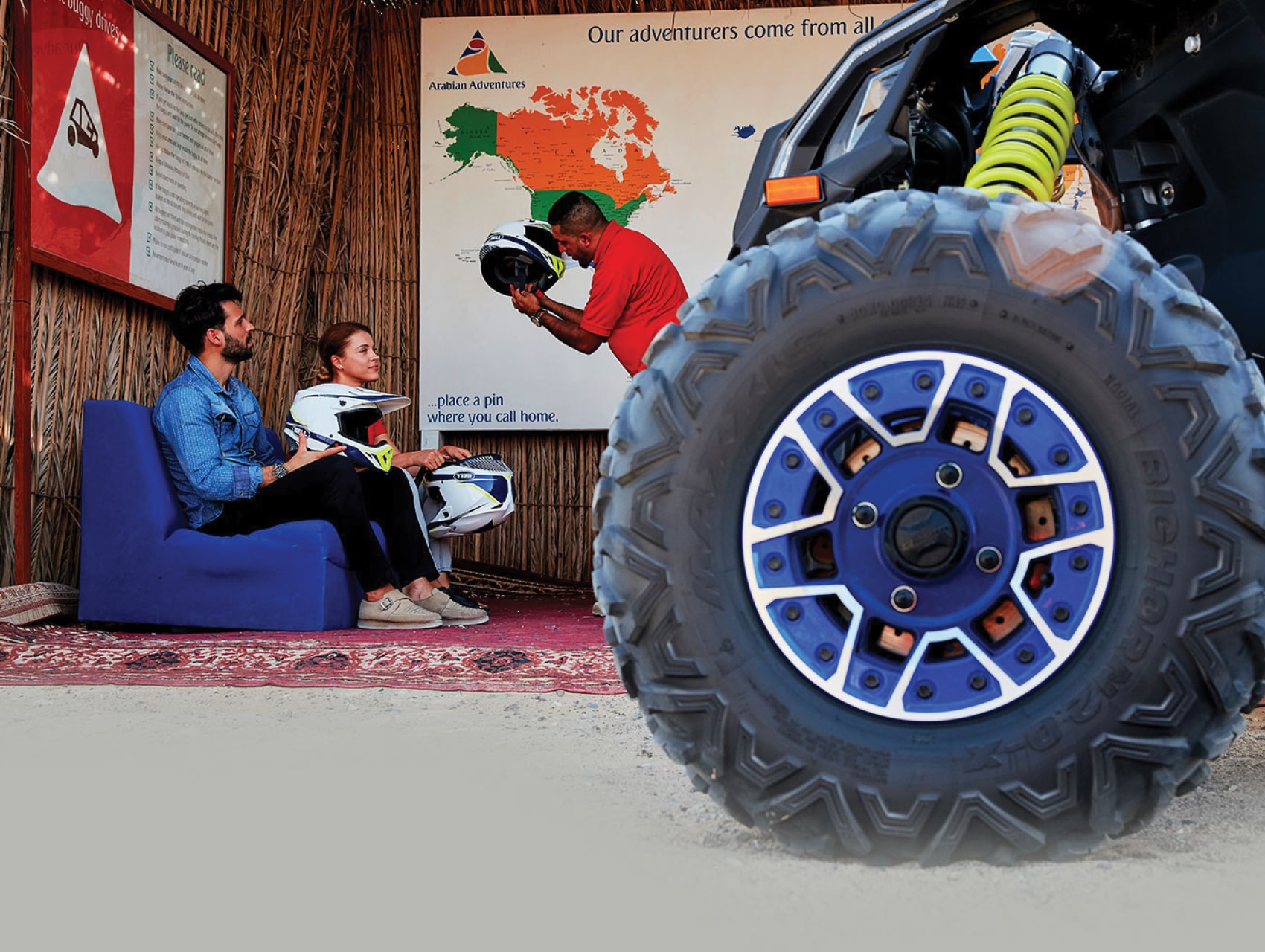 Let the adventures begin as you take your turbo-charged automatic 4x4 Can-Am desert dune buggy out into expansive desert and start your experience across the large dunes.
Following the lead guide, you will begin with an easy drive before kicking up a gear for an adrenaline-filled experience that will have the big wheels of your dune buggy kicking up the sand around you! Feel your adrenaline pulse and hear the engine roar as you reach speeds of up to 80km/hour.
With the emphasis on exhilarating fun, your guide will lead you through a route of the tallest sand dunes, expertly picked to utilise the best of the abilities the 4x4 Can-Am buggies have to offer, ensuring even the most thrill-seeking adventurers are kept on their toes.
Part way through riding the sand dunes, there is a stop available for a drinks break and photo opportunity to take in the sights of the serene Dubai desert, and remember the excitement for years to come.
After around two hours of adrenaline-filled desert driving, you will return to the camp for a final photo opportunity with your dune buggy before a relaxing, chauffeured drive back to the location of your choice.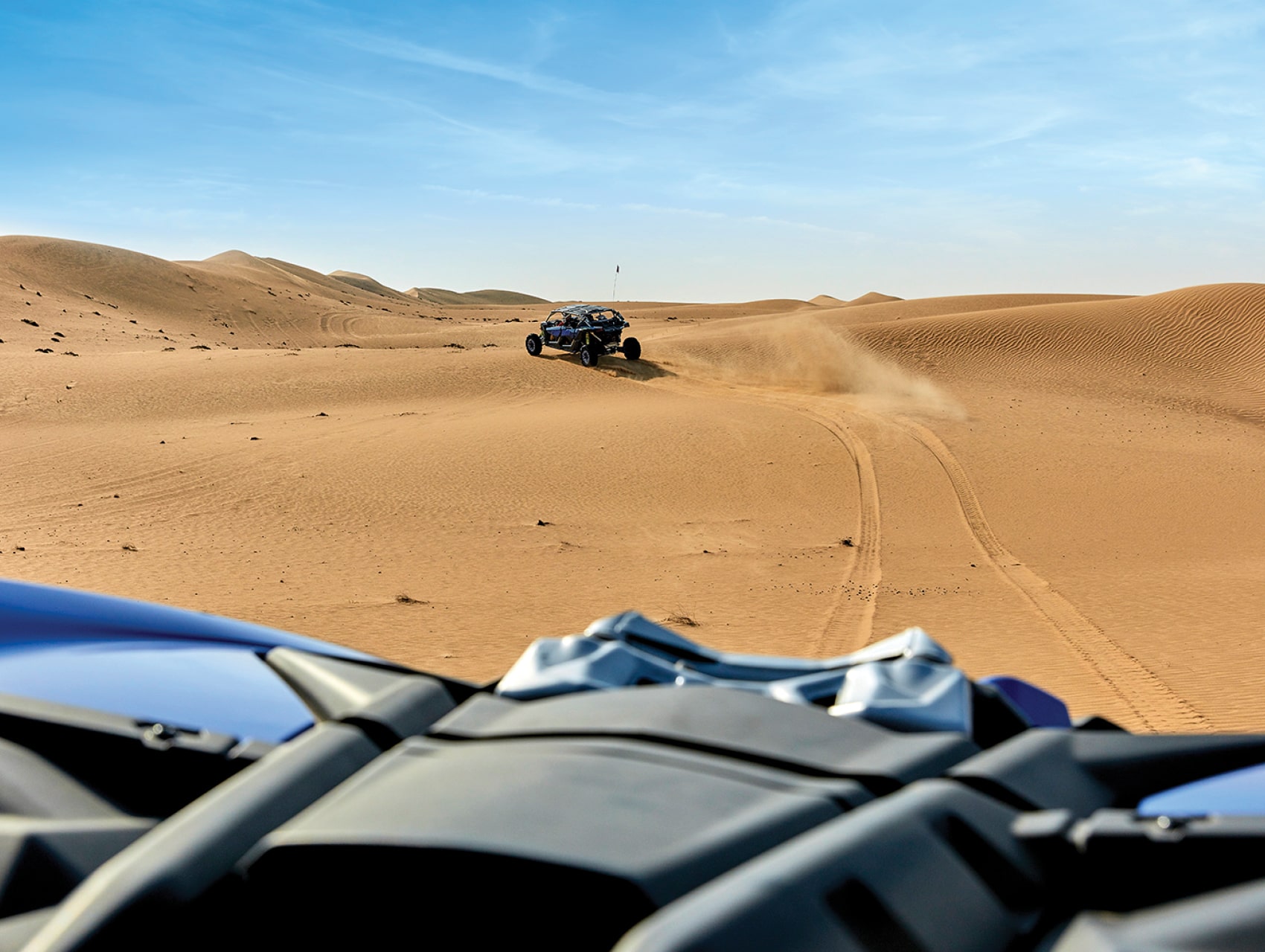 Which Desert Dune Buggies Safari experience is best for you?
There are three driving options to choose from to suit everyone's adventure needs.
You can leave the driving to someone else with the Passenger Experience . On this adventure, you can sit back and watch the dunes and sand fly by whilst on the lookout for local wildlife including camels, oryxes and gazelles from the passenger seat, leaving the drive to one of our experts.
The Driver Experience is also available, where you can share the driving with a fellow passenger, alternating the wheel with a rest and switch stop after 30 minutes.
For the true thrill-seekers out there, the Private Buggy Experience offers the exclusive use of a 4x4 Can-Am buggy for you and up to three friends.

All of our dune buggy driving experiences run for approximately two hours, and cater for those aged six years and older. Children aged 6-13 can experience the dune buggies as passengers accompanied by an adult in the Private Buggy Experience, and children aged 14 years and above can ride as a passenger in the Passenger Experience.
Can't wait to experience the thrill of the Arabian Adventures Dune Buggy Desert Safari? Book your next adventure with us today at arabian-adventures.com, call us on 800-ARABIAN (2722426) or email aaonline@arabian-adventures.com. All of our desert safaris have the SafeTravels hygiene and safety protocols in place for your peace of mind.