DNATA UAE
Our commitment to sustainable tourism is reflected in our position as the UAE's inaugural recipient of the Travelife Partner award. The Travelife three-stage certification process covers the ISO 26000 Corporate Social Responsibility themes, including environment, biodiversity, human rights and labour relations. This process is formally recognised as being in full compliance with the UN supported Global Sustainable Tourism Criteria.
Being awarded the Travelife Partner status highlights how we place the journey towards sustainability at the heart of our operations, and how corporate social responsibility guides our continuous development.
If you have any questions about our sustainability and corporate social responsibility commitments, please contact aasustainability@dnata.com.
Our

Experiences
Browse each category and select from a range of sustainable activities across the UAE.
We operate in alignment with a variety of initiatives that contribute to a more eco-friendly world.
Our desert safaris are delivered within the protected area of the Dubai Desert Conservation Reserve (DDCR), where native wildlife roam free under the observation of professional experts. At the DDCR, we have placed recycling points throughout the area, segregating waste effectively and ensuring disposed trash has a second cycle wherever possible.
To protect the surrounding areas of the Reserve from litter build ups and general habitat disruptions, the Arabian Adventures team takes part in a quarterly desert cleanup. In addition to this, we also have dedicated staff in place, including a Sustainability Manager, Environment Manager, a Green Team, and a newly appointed Animal Welfare Officer, to ensure a constant focus on the core values of sustainability and doing the right thing by the environments and animals we work to protect and preserve.
Overall, our initiatives and organisational structure ensure our compliance with over 100 sustainability related causes. We are working towards further improvements with the end goal of obtaining the Travelife Certified award.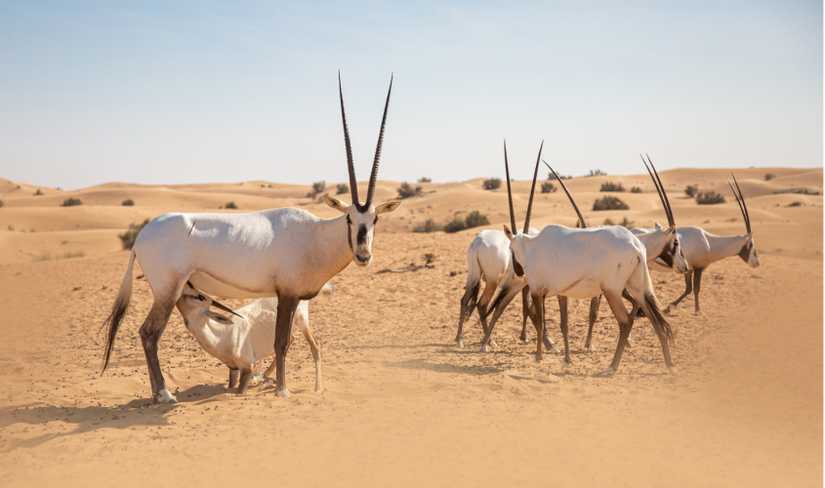 Dubai Desert Conservation Reserve
The Dubai Desert Conservation Reserve is one the UAE's largest protected nature reserves. Covering approximately five percent of Dubai land mass, the space provides a shielded environment for local flora and fauna to flourish.
Our strategic partnership with the DDCR means we operate our desert safaris within the Dubai Desert Conservation Reserve and work closely with the DDCR to align with its overall protection goals.
Working in harmony, we have created a safari experience which: prioritises the promotion of local nature and culture; is certified by the DDCR to provide more information on the fauna, flora, geology and cultural aspects of the reserve; considers sustainable tourism within all aspects of the tour, including environmental impact and waste management; provides a 'citizen scientist' approach by recording wildlife observations and reporting them back to the reserve; routed to ensure that the wildlife is not adversely affected.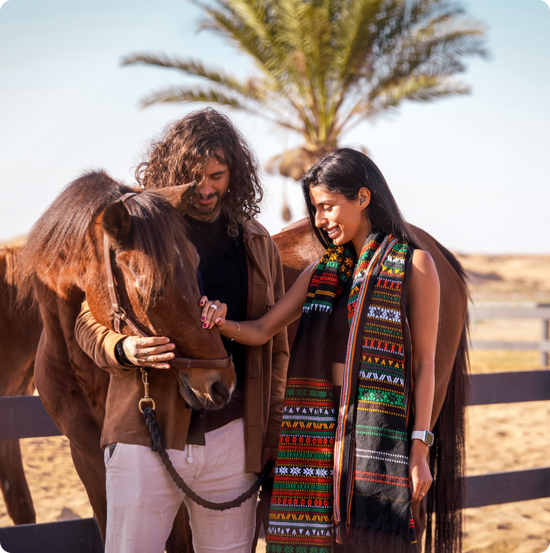 Animal welfare
We love our animals. They're the cornerstone of our team, and we dedicate a great deal of effort to making sure they're safe, healthy and happy.
We ensure the welfare and ethical treatment of animals throughout our excursions and experiences, and those of our suppliers. We take great care to conduct any activities or interactions involving animals in a responsible and respectful manner, adhering to strict guidelines and international standards.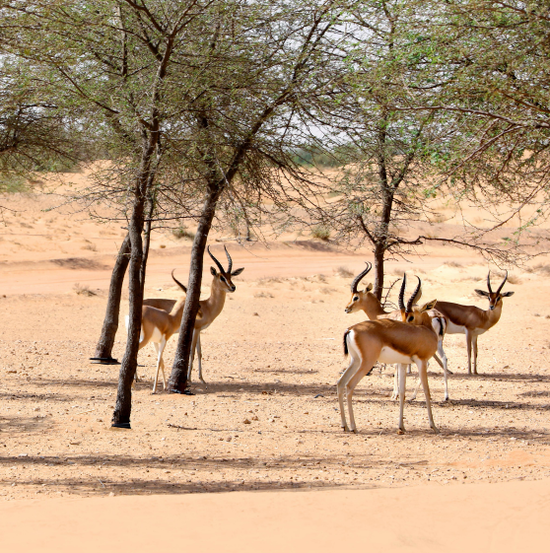 Sustainability policy
We are committed to conducting our business ethically – with a focus on economic, social, and environmental sustainability.
Our Sustainability Policy details our existing practices and our ongoing commitment to deliver our services in a responsible manner while providing an innovative and varied product offering to our valued customers.
The full policy is available here
Our mission
Our core mission is to deliver high quality, responsible, sustainable tourism activities. Through these activities, we want to empower our guests to enjoy the very best Dubai experiences whilst leaving a positive impact on the environments they visit and celebrating the local communities who inspire our experiences.
We will always strive to manage our resources to ensure economic and social needs are fulfilled, while maintaining cultural integrity and local biodiversity. It is when we focus on preserving these elements that we make our destinations such desirable places to visit.
We aim to lead sustainability initiatives through our actions, motivate those around us to follow our lead and contribute to a greener world.
Local Emirati cultural heritage
We take every opportunity to showcase Emirati culture and celebrate the role local influences play in shaping our experiences.
By embedding Emirati heritage into our operations, Bedouin culture, heritage and tradition sits at the heart of the desert safari experience. At our desert camps, we share Emirati culture through our welcome of traditional coffee and dates, and our camp artisans present their Emirati-inspired handmade crafts for guests to enjoy. Our city tours showcase both old and new Dubai, sharing the rich traditions and cultures showcased across the city whilst embracing its path towards the future.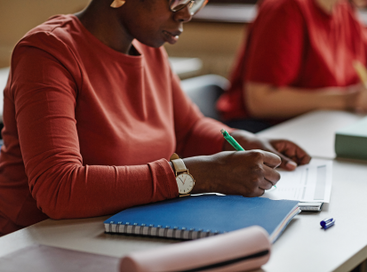 Supporting Al Noor
We've been sharing training experiences with individuals at the Al Noor Training Centre for Persons with Disabilities since 2010. It continues to be our pleasure to support the Centre by equipping individuals with the work and social skills required for future employment and a successful role in society.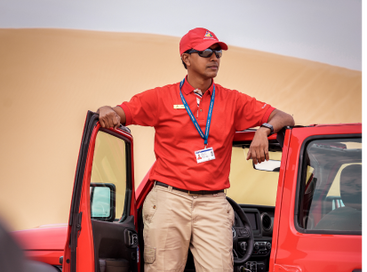 Supporting education
Our desert safaris are led by safari guides with extensive knowledge of the local wildlife, flora and fauna. We have supported their development to achieve higher level certifications, required as a prerequisite for DDCR safaris. Together with Dubai Tourism (DTCM) and Dubai Training College, we have helped design the new safari guide training curriculum, which has been rolled out as a standard requirement for guides in Dubai.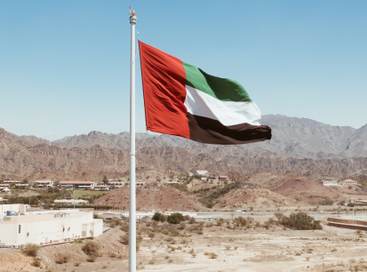 Destination UAE
From its foundation in 1971 to the present day, the United Arab Emirates has leveraged its generous oil and natural gas reserves to transform into a leading global destination. Its strategic position at the crossroads of the world sees passengers pass through the country's airports in their millions, creating multiple touchpoints for tourists to discover Emirati culture.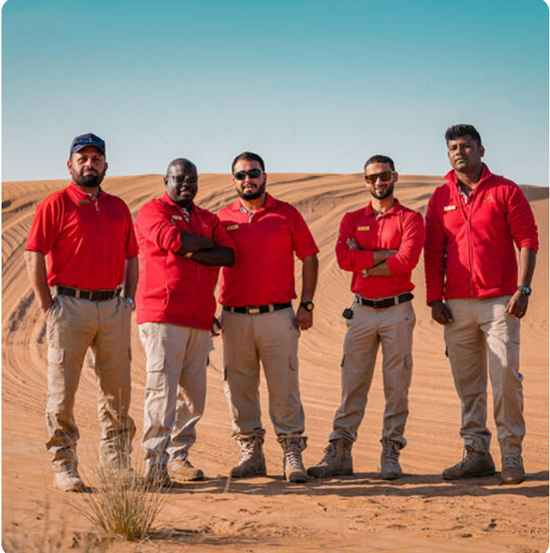 Local employment
As per national guidelines and Emirates Group initiatives, we provide opportunities for local candidates to join us on their employment journey. This approach aligns with our wider recruitment and employee policy of equal opportunity for employment, development and promotion. It is important to us that we always act with care and consistency when handling employee matters.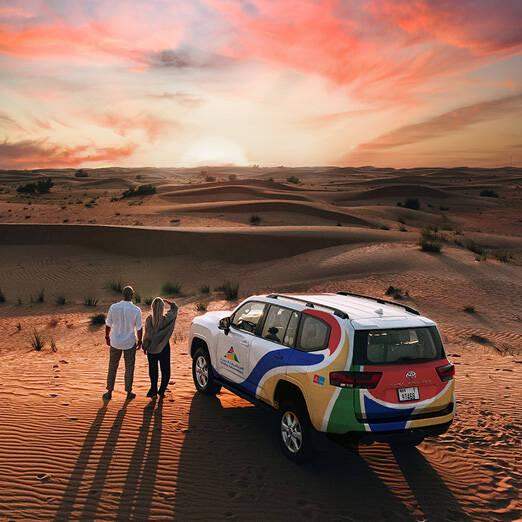 Desert clean ups and recycling
The desert is home to many species of wildlife. To respect the habitat in which they live, we complete quarterly desert clean ups that are open to both teams across the business and the public. Desert clean ups are held in the unprotected areas outside the Dubai Desert Conservation Reserve to ensure litter does not build up and potentially disturb the area's inhabitants.
Forbidden souvenirs
While we encourage our guests to create lasting memories with us, we do prohibit certain souvenirs and goods. Guided by the rules and regulations set out by Dubai Customs, we restrict the sale/collection of any souvenirs which contradict our efforts to preserve local wildlife or may have been obtained through activities which carry the possibility of harm to protected fauna and/or their habitat.