Not available from 1st May till 30 September 2023
Sunset desert safari experience & dune buggies combo
Sunset desert safari experience & dune buggies combo
Not available from 1st May till 30 September 2023
Desert Dune Buggies & Evening Safari Combo - Private Vehicle
Desert Dune Buggies and Evening Safari Combo (1-4 Guests)
Make the most of your time and experience two of our most popular desert adventures! First, adrenaline-fuelled excitement awaits as you take a thrilling ride through the dunes on the Dune Buggy Adventure. After an exhilarating two-hour dune buggy drive, we'll take you into the heart of the Dubai Desert Conservation Reserve for the all-inclusive Evening Desert Safari. Look out for local wildlife on your way to a dedicated stop to watch the sun set.
Make your way to our Bedouin-inspired camp for the rest of the evening to feast on a delicious BBQ menu and enjoy a variety of regionally inspired entertainment before heading back to the city, feeling refreshed and full of unforgettable memories!
What's included
Hotel pick-up and drop-off in a four-wheel drive private vehicle
Enjoy refreshments in the departure camp area before setting off in the dune buggies
Thrilling dune drive in a private four-seater off-road dune buggy, for you and up to 3 others
Driving and safety instructions are provided
Enjoy refreshments after the dune buggy experience
Snap phoos at the beautiful sunset stop
Continue with the Evening Safari at the Bedouin-style camp
Take a short camel ride
Try out sandboarding
Get a Henna tattoo
Enjoy local entertainment
BBQ dinner
Unlimited soft drinks
Adults, over the age of 21, can choose an adult beverage package at the time of booking (house or premium beverages; except for during religious holidays)
The Facts
English

Daily, during winter

October - April

Modest dress and comfortable walking shoes are recommended

Afternoon until early evening. Two hours in the dune buggies.

4-wheel drive Land Cruiser or similar

Moderate

12noon

9pm
Good to know
A security deposit of AED 5,000 (by cash or credit card) will be collected at the venue prior to the start of the Dune Buggy Adventure. Once the experience is complete with no damages, this amount will be returned to the guests in full.
Drivers may be asked to stop the buggy and rotate drivers should the guide deem that guest are driving poorly or intentionally unsafe.
All transfers for the buggy experience are private.
All dune buggies are four-wheel drive and fully automatic; complete with seat belts, roll cages and off-road suspension.
This experience operates only during the winter season from October until April.
Shisha is included in the premium beverage package, and is available for purchase for the soft and house beverage packages for AED 50 per shisha.
Beverage packages: Soft drinks are available on-site with the option to purchase selected drinks on-site from the house and premium packages. House package includes standard house wines and beer. Premium package includes premium wines and beers and selected spirits. All packages include unlimited soft drinks and water.
Modest dress and comfortable walking shoes are recommended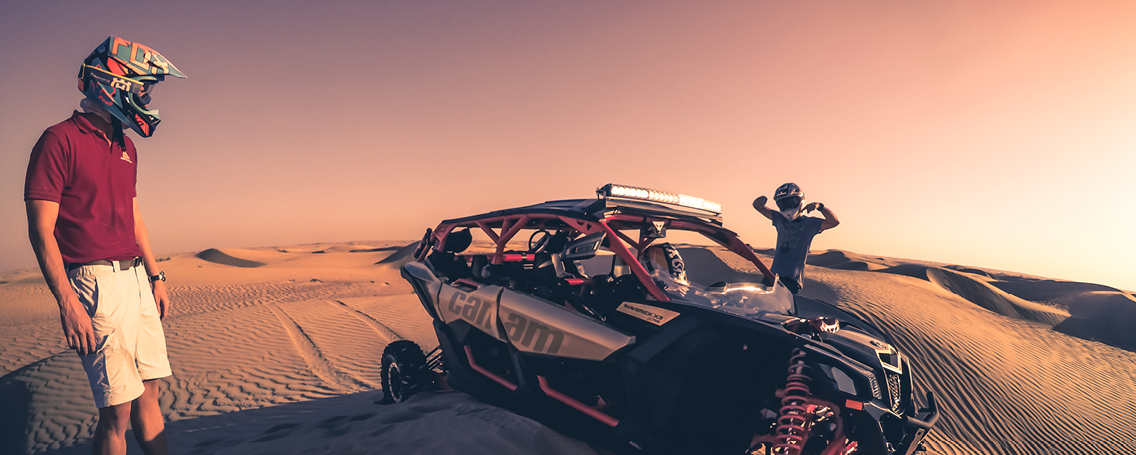 Best for
Couples
Families
Single Travellers
Leisure Travellers
Business Travellers
Age Policy
Drivers should be at least 18 years of age and possess a valid driver's license from their home country.
Non-driving passengers joining the lead buggy have to be at least 14 years old.
Children between the ages 6- 13 years can join the experience as non-drivers, however, they need to be seated in a private buggy along with the adult accompanying them.
Recently Viewed
Not available from 1st May till 30 September 2023