Sharjah City Tour
Are you looking to explore further than just Dubai on your visit to the UAE? Then this Sharjah City Tour is your answer! Discover what the beautiful emirate has to offer and don't miss your chance to experience a few incredible souk shopping sprees and jaw-dropping attractions on your day out!
What's included
Hotel pick-up and drop-off in a private/ shared vehicle
Knowledgeable tour guide
Visit to Souq Al Jubail
Photo stops at the Pearl Monument and King Faisal Mosque
Admission to the Sharjah Museum of Islamic Civilization
Enjoy tea time at Jenan tea house
Souvenir clay pot
Visit to the Chedi Al Beit Hotel (snacks and beverages for an additional cost)
Stroll around Souq Al Arsah
Admission to the Rain Room
Photo stops at the fascinating church area and the Sharjah Mosque
The Facts
Chinese, Russian, Portuguese, Japanese, Italian, Arabic, French, German, Spanish, English

All days except on Friday and public holidays

Year round (Afternoon)

Modest dress code and comfortable walking shoes are recommended

Half day

Hyundai Staria or similar
It's time to look beyond Dubai and explore the historic and beautiful emirate of Sharjah. Located less than a 30-minute drive from Dubai, the third largest emirate is guaranteed to steal your heart with its unique charms and hidden gems.
Start your morning with a scenic drive from your hotel to Sharjah, accompanied by fun facts and fascinating stories told by your knowledgeable tour guide. Once you've reached your destination, enjoy the enticing aromas at Souq Al Jubail, a two-storey market. You'll find everything from fresh fruits and vegetables to high-quality meats at this gourmet paradise.
Continue your journey to take a photo with the incredible Pearl Monument before posing in front of the grandiose King Faisal Mosque. Then it's time to learn more about Islamic Civilization by paying a visit to the Sharjah Museum of Islamic Civilization. You'll be able to explore over 5,000 artefacts from the Islamic world and get a better insight into to culture and traditions of Islam.
Take a break and sip some tea at Jenan – one of the most beloved tea houses in Sharjah. You will even get a clay pot to remember your experience by.
Another market adventure awaits at Souk Al Arsah, deemed as the oldest market place in the UAE. The historic venue was once the meeting place for Bedouins and their camels. As you'll probably need some refuelling by then, enjoy a lunch break at the beautiful Chedi Al Bait hotel, before feeling truly refreshed at the extraordinary Rain Room. Opened in 2018, the Rain Room is a unique modern installation, delivering a truly awe-inspiring experience for visitors.
Before heading back and concluding your adventure, add to your UAE album by taking photos at the awe-inspiring church area and the spectacular Sharjah Mosque.
Good to know
Based on the guests' preference, the tour can start as early as 8:00am, but no later than 10 am. The duration of the tour is about six hours.
We advise to wear comfortable shoes and all guests must adhere to the local dress code requirements (modest clothing with shoulders and knees covered). We also recommend wearing sunblock, sunglasses and a hat, especially during the summer months.
The tour runs every day except on Fridays and public holidays.
Sharjah is one of the most beautiful and culturally rich cities in the United Arab Emirates. Join us on a four-hour tour from Dubai to explore the highlights of this Pearl of the Gulf. With our knowledgeable guide, you'll learn about the city's rich culture, traditions and history as you visit landmarks like the King Faisal Mosque, Al Bait Museum and more.
Book your spot now and discover why Sharjah is one of the most beloved tourist destinations in the UAE!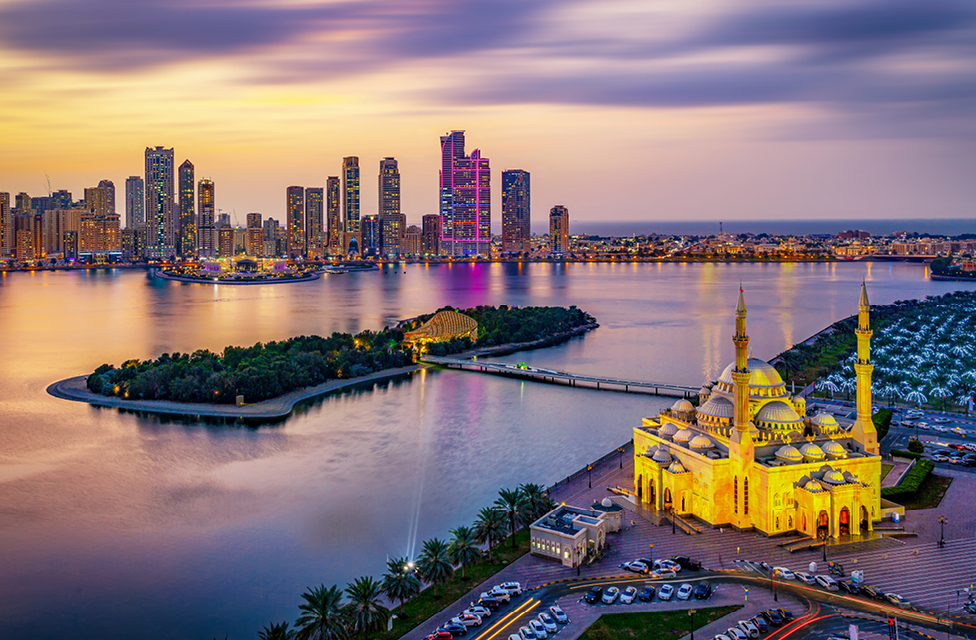 Best for
Couples
Families
Kids
Senior travellers
Travellers with special needs
Travellers requiring language help
Age Policy
Adults are 12 years and above
Child age is 2-11 years