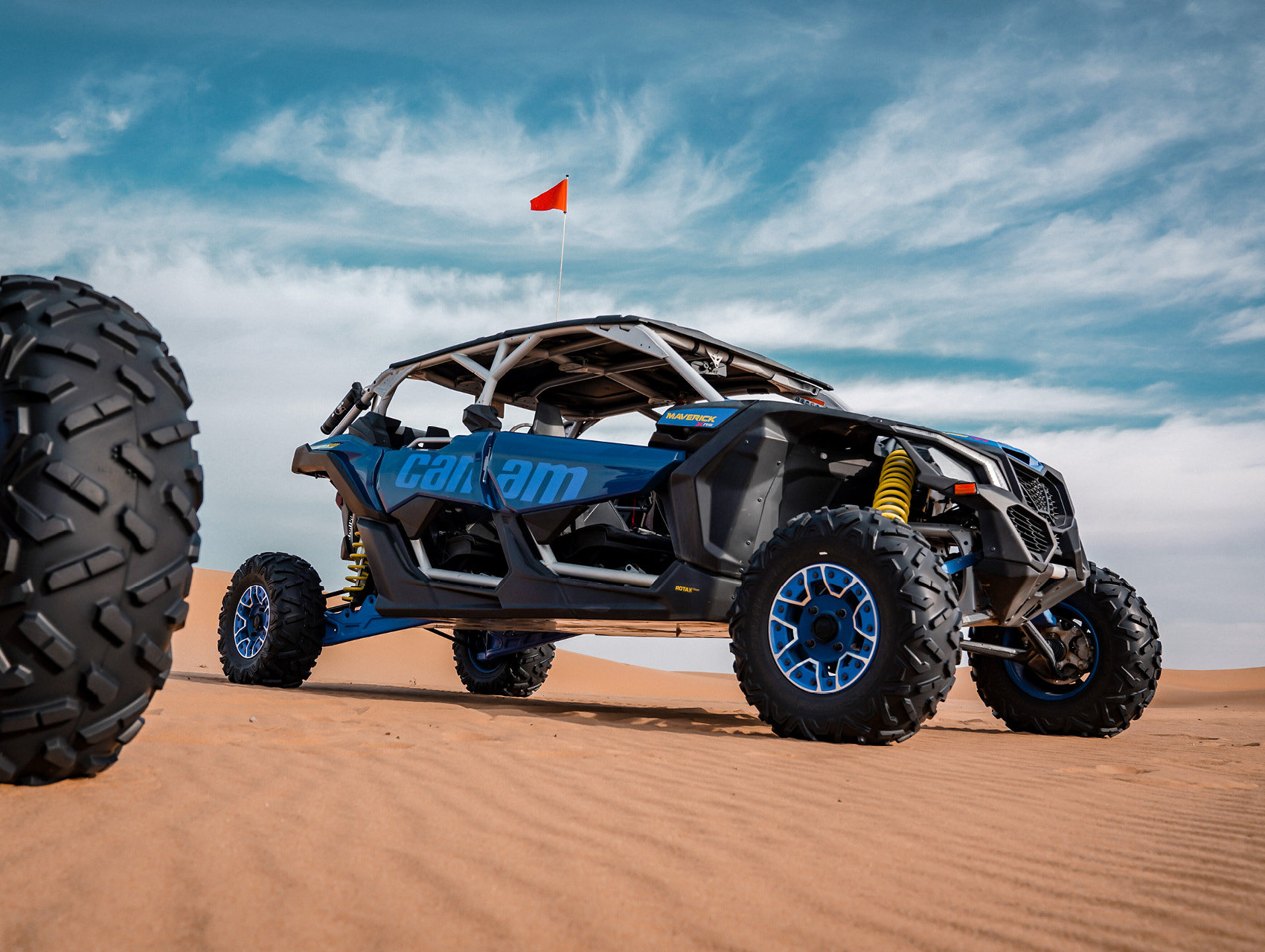 If you're already headed to the desert to escape the buzzing city to spend some time between the mesmerising dunes, why not make the most of it? To help you do just that, we have combined two of our most popular experiences to bring you the ultimate Arabian adventure. Without further ado, we'd like to introduce the thrilling Dune Buggy Adventure combined with the extraordinary Evening Desert Safari.
Get the thrills going
After our safari guide has picked you up from your location in a private 4x4 vehicle, you're in for a 45-minute drive filled with fascinating facts and funny stories. Once you've reached the desert, the adrenaline-fuelled adventure begins.
You'll be provided with the necessary safety gear and helmets. After some refreshments and thorough driving and safety instructions, the endless dunes await. You and your friends will hop into your private buggy and enjoy a two-hour, thrilling, off-road dune-buggy drive, guaranteed to get the pulse racing for even the most experienced drivers. All of our buggies are four-wheel drive and fully automatic. They come equipped with seat belts, roll cages and off-road suspension, to ensure the highest level of safety for our guests.
Once you've conquered the dunes, your safari guide will take you into the heart of the Dubai Desert Conservation Reserve for an unforgettable Evening Desert Safari experience.
Enjoy a spectacular safari
As you make your way to the beautiful campsite, you can enjoy enchanting views of the local wildlife in their natural habitat before stopping to take photos with an unbeatable backdrop – a mesmerising desert sunset.
Once you reach the magical Bedouin-style campsite, you have a number of fun-filled activities to choose from to build your appetite before sitting down for dinner. Start off by finding your balance on a sand board as you scoot down the dunes with sand splashing around you. If you've mastered that balancing act, why not go for another and hop on a camel to channel your inner Bedouin?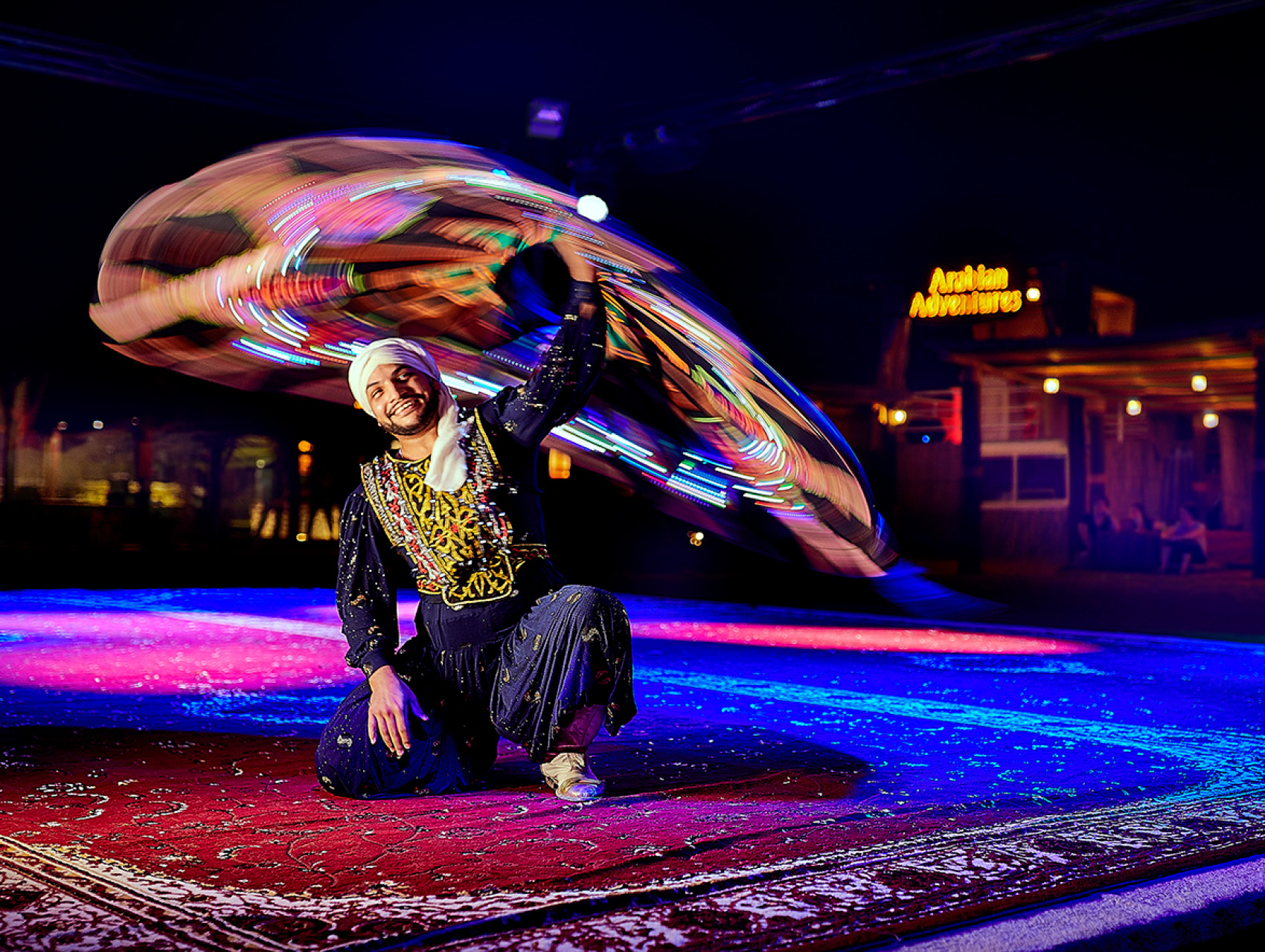 To make the memories last, turn your hand into a canvas and allow our professional henna tattoo artist to decorate your hands with a one-of-a-kind masterpiece. One thing's for sure - there's plenty to do and see for guests of all ages.
After a fun-filled afternoon, it's time to relax over a delicious buffet-style barbeque dinner. Guests can choose their preferred dinner package including unlimited soft drinks, house beverages or a premium package. As you wind down, our local entertainers will take the stage and whisk you off on a head-spinning journey with their amazing performances. Witness the art of Tanoura dancing, clap along with our belly dancer and feel the heat as the fire dancer takes the stages. This is guaranteed to be an experience you won't forget.
Once the dinner is over, your safari guide will drop you off back at your hotel and leave you reminiscing about the unforgettable day you had.
As with all of our experiences, the Dune Buggy Adventure and Evening Desert Safari experience is created with sustainability in mind. By embarking on this adventure, a portion of your fee is directed towards sustaining the local conservation.
Can't wait to experience the thrill of the Arabian Adventures Dune Buggy Desert Safari? Book your next adventure with us today at arabian-adventures.com, call us on 800-ARABIAN (2722426) or email aaonline@arabian-adventures.com. All of our desert safaris have the SafeTravels hygiene and safety protocols in place for your peace of mind.