Standing as an exquisite embodiment of Islam's peace, diversity, and tolerance the breath-taking Sheikh Zayed Grand Mosque in Abu Dhabi is not only one of the largest, but undeniably one of the most beautiful mosques in the world. The incredible place connects people from across the globe, coming to marvel at the exceptional architecture, and expand their knowledge on the religion and culture of the United Arab Emirates (UAE).
Envisioned by Sheikh Zayed bin Sultan Al Nahyan as a welcoming and cultural haven for people from all walks of life, the stunning mosque delivers an air of inspiration from the very first glance. The creation of this modern architectural wonder saw exceptional talent from all over the world being brought together to work, united, for a common goal. And it's safe to say the passion and dedication that went into building what is now one of the most renowned UAE landmarks, shows through in every little detail.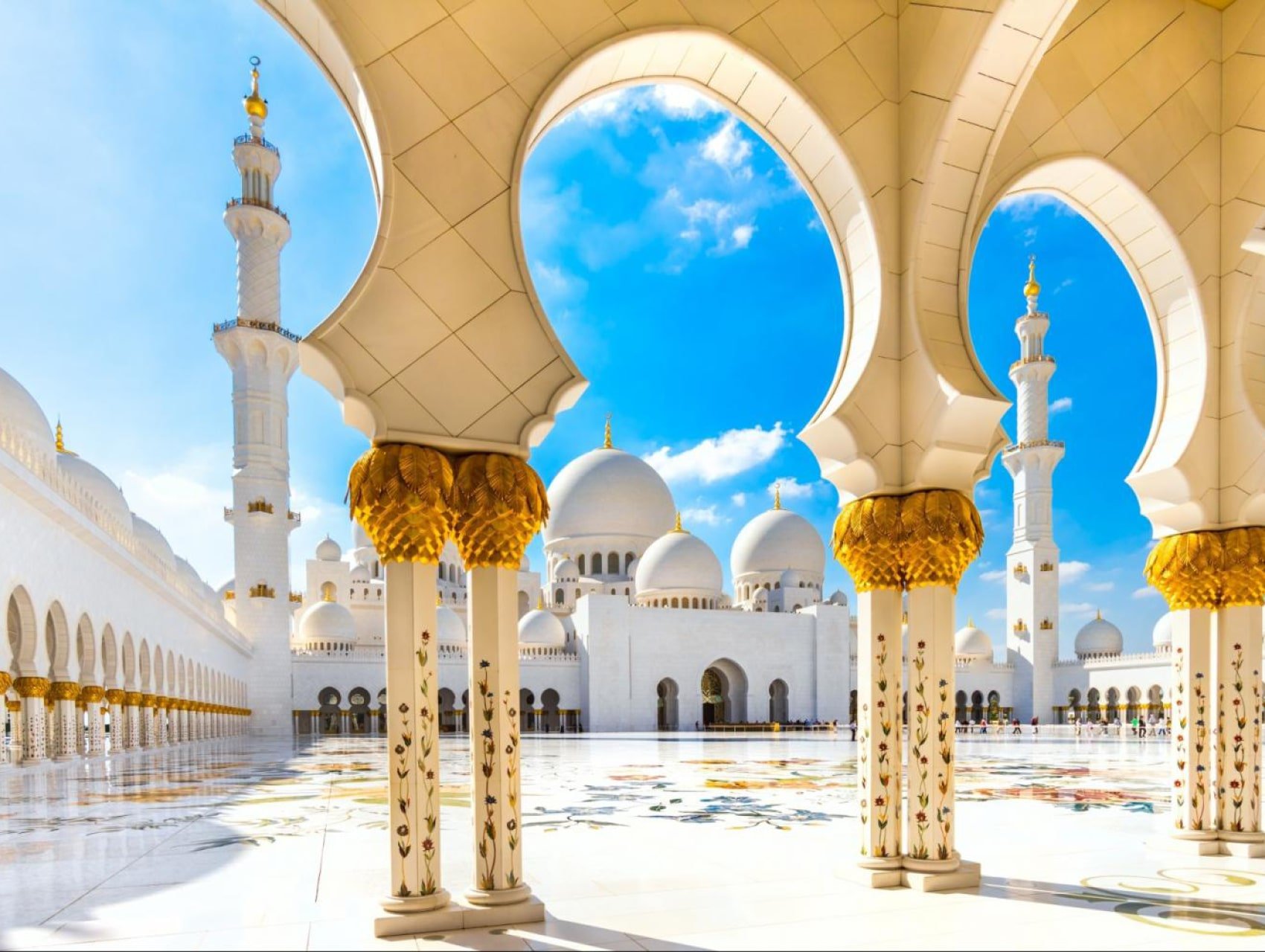 A record-breaking visit
From the moment you lay eyes on the Mosque of Sheikh Zayed bin Sultan the First, there's no doubt you're in for an awe-inspiring journey. Constructed from over 90,000 tonnes of pure white marble imported from Macedonia, the intricate floral designs and details decorating the Grand Mosque Abu Dhabi give the architecture a truly ethereal feel.
As you stroll through the marbled halls, you'll be greeted by treasures and artwork unlike anything you've witnessed before. Admire the exquisite gold-leaf calligraphy decorating the hollows of the 82 domes at the mosque, witness the gorgeous columns magically reflecting back from the strategically places pools, and be awed by the three sparkling gold-plated Swarovski chandeliers, with the largest of them weighing in at around 11 tonnes.
Once again proving that anything is possible in the UAE, is the world's largest loomed carpet, hand-knotted by 1300 Iranian artisans to decorate the Sheikh Zayed Grand Mosque's main prayer hall. Taking over two years to complete, the record-breaking carpet is 5,700 square metres and guaranteed to leave any visitor collecting their jaw from the ground.
Worth mentioning is also the stunning and intricate glasswork throughout the mosque. Traditional Islamic designs are portrayed through repetition and symmetry using carved and sand-blasted glass. Of course, one of the most important focal points of any mosque are the minarets. The Sheikh Zayed Grand Mosque boasts four magnificent minarets, each standing at approximately 106 metres and made up from three geometric shapes.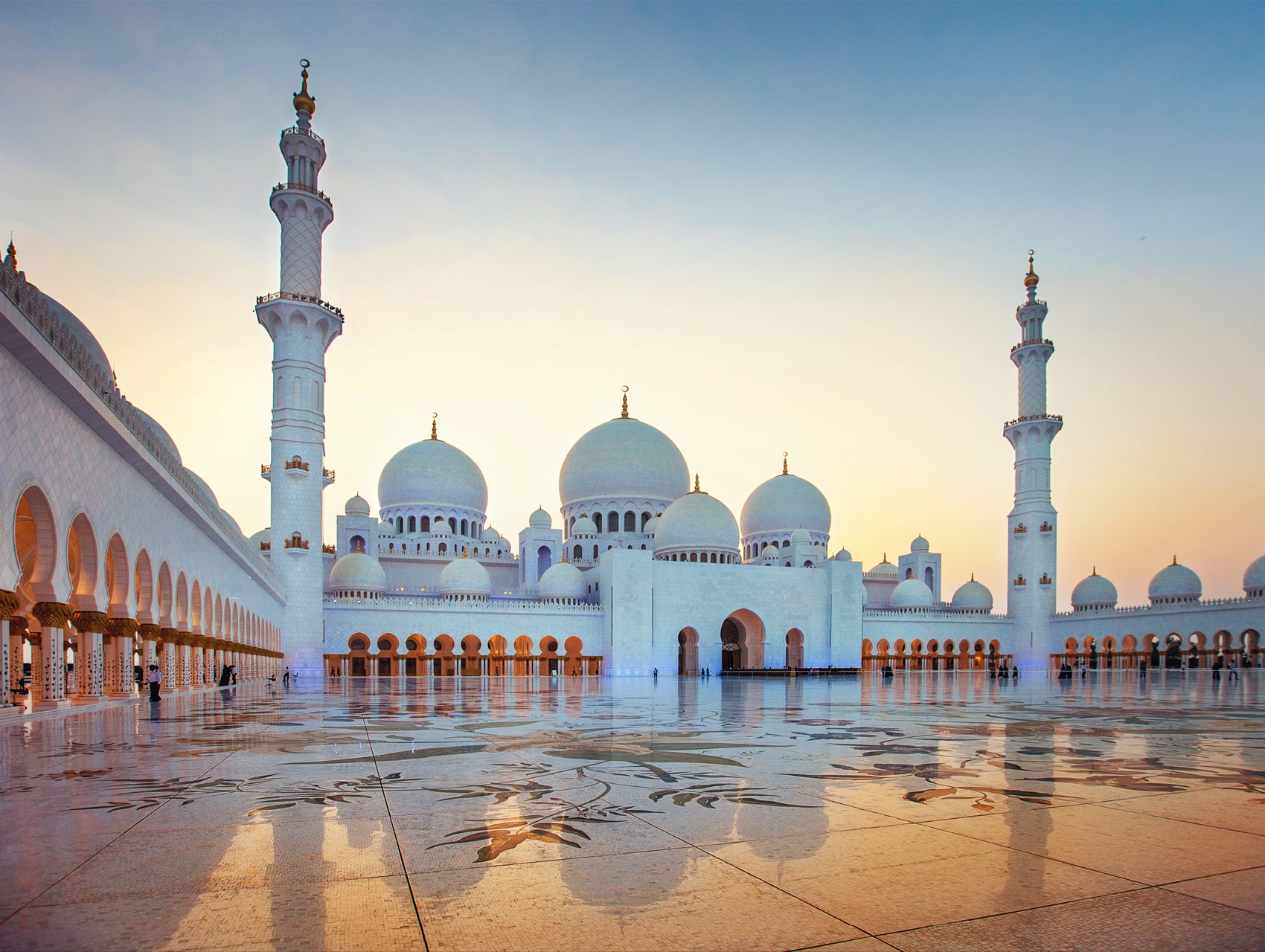 Opening minds with open doors
One of the few mosques in the region to welcome non-Muslims, the Grand Mosque Abu Dhabi has an open-door policy that allows each visitor to experience true Arabian hospitality. Despite how grandiose the venue is, it brings about an air of peace and tranquillity, providing guests an unmatched insight into the rich Emirati culture and Islamic traditions.
Although Sheikh Zayed Grand Mosque is visited by thousands of tourists daily, it's worth remembering that it is actually an active mosque, which sees up to 50,000 worshippers every day. This means respectful and modest clothing should be worn at all times and it's wise to check the tour timings while planning your visit.
A great way to explore the sublime Sheikh Zayed Grand Mosque in Abu Dhabi, is to book our Private Abu Dhabi City Tour. This is an amazing way to experience the magic of the spectacular mosque while also checking off various other iconic landmarks from your Abu Dhabi bucket list.
Frequently Asked Questions

Sheikh Zayed bin Sultan Al Nahyan came up with the idea of building Grand Mosque Abu Dhabi in the 1980s. The actual construction commenced on November 5 in 1996. The prayer halls first opened to worshippers in 2007 on Eid Al Adha.

Sheikh Zayed visiting timings are between 9:00am and 10:00pm. Depending on the season, the weather can be quite hot and humid during the day, so it's better to visit either early in the morning or in the late afternoon. When making your Sheikh Zayed Mosque booking, bear in mind that during Friday prayers the main parayer hall is closed for visitors from 12:00pm-3:00pm.

If you're looking to not only admire the exterior and interior of Sheikh Zayed Grand Mosque, but also learn more about the fascinating building, join one of the complimentary guided tours. The tours are not pre-bookable, but you can join other guests on any of the 'walk-in' tours, each lasting around 45 minutes.

Sheikh Zayed Grand Mosque is located between the three main bridges that connect Abu Dhabi City to the main land. You can get there by car, taxi, bus (bus lines 102, 111, 115, 400, 401 and 54 stop close to the Grand Mosque Abu Dhabi), or by joining a city tour like our Abu Dhabi City Tour.

Considering the mosque is still a place of worship, there are some Sheikh Zayed Mosque entry requirements. Guests are expected to wear modest clothing, with both men and women having to cover their arms and legs. Women should not wear skirts and trousers should cover their ankles. Visitors should also opt for looser-fitting clothing and it's advisable for women to bring a scarf in case they need to cover their head.

Sheikh Zayed Grand Mosque is one of the largest mosques in the world and is a truly spectacular and grandiose architectural work of art. It's also one of the only few in the region to be open to non-Muslims.

It is not necessary to make a Sheikh Zayed Mosque booking to visit. The entry is fee and guests can walk in at any time during operational hours. However, to make the entry process smoother and faster during peaks hours, we advise to check Sheikh Zayed Mosque visiting timings and make a booking beforehand.

When visiting Sheikh Zayed Grand Mosque, guests can take as many images of the incredible mosque as they desire. Visitors should however bear in mind that photographing locals or others without their permission can be a punishable offence.