At Arabian Adventures we strive to remain at the forefront of sustainable tourism in the UAE. Best practices in sustainability are at the heart of all of our operations, ensuring that our expert guides, and you - our valued customers - are involved in the protection and preservation of the environments in which we operate; from the impressive cityscapes covered on our sightseeing-tours, to the incredible surrounding desert you visit on our award-winning shared-desert-safaris. Find out more about our part in the protection of Dubai's varied landscapes, and how you can get more involved by planning your next Dubai adventure with the team of destination experts at Arabian Adventures.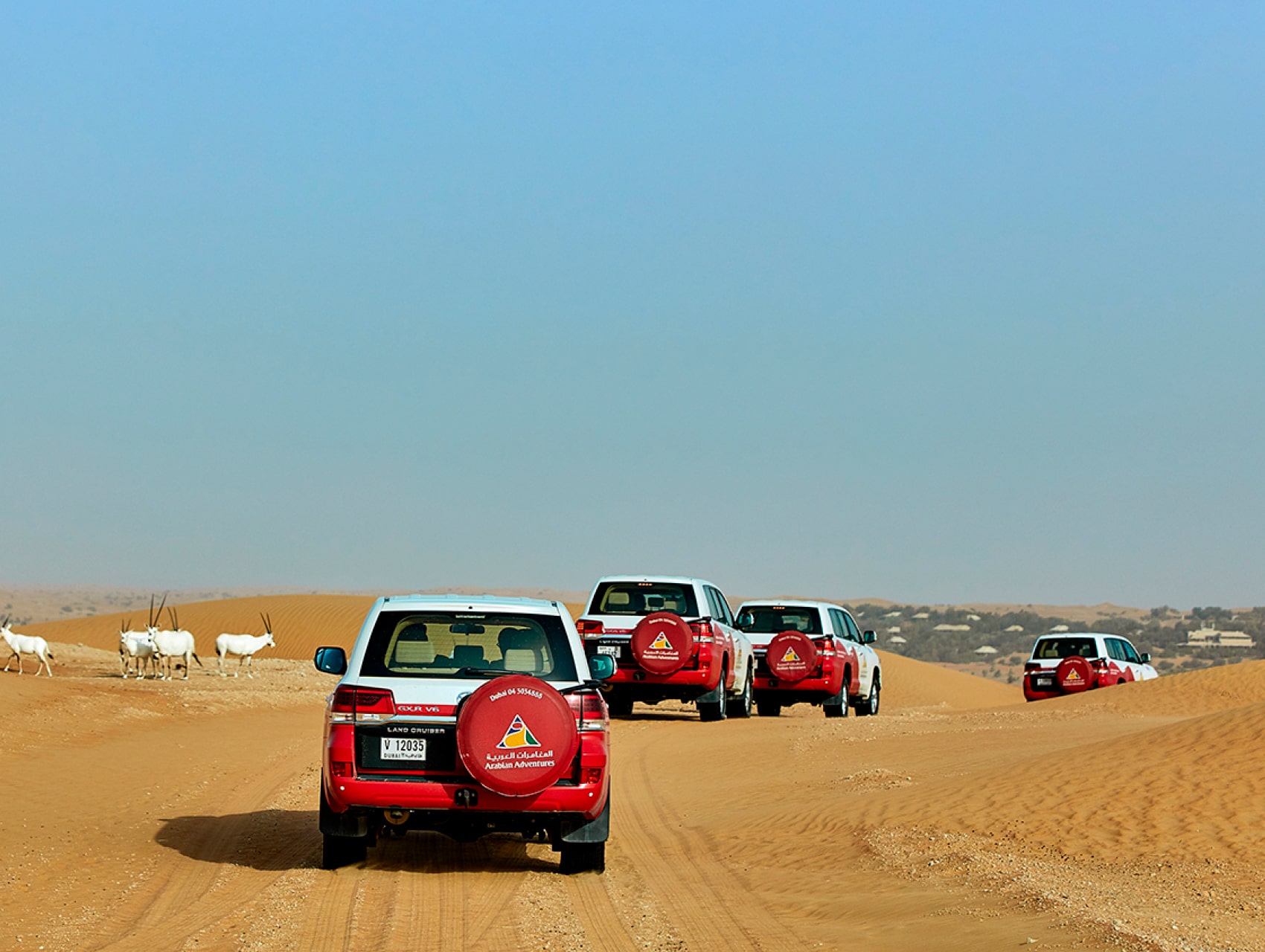 Operations in the Dubai Desert Conservation Reserve
Created in 2003, the Dubai Desert Conservation Reserve (DDCR) is home to many of Arabian Adventures' safari tours and activities. This spectacular landscape encompasses 225 square kilometres of desert wilderness; forming 4.7% of Dubai's total land area. Here, find a natural and protected habitat to numerous endangered species of flora and fauna. This includes Arabian Oryx, Houbara, Golden Eagle, Egyptian Spiny Mouse, Vultures, Sand Fox, Short eared Owls, Gordon's Wildcat, Arabian Hare, Ethiopian Hedgehog and Gazelles; to name but a few of the local residents protected here.
The DDCR maintains strict criteria when allowing any safari activities within the reserve. These include: a safari that focuses on nature and/or culture; Guides to be certified by the DDCR to provide more information on the fauna, flora, geology and cultural aspects of the reserve; and sustainable tourism to be considered on all aspects of any tour, including environmental impact and waste management. All of our Desert Safaris, activities, overnight and other desert experiences take place in the DDCR where only a few operators have access and a portion of your fee supports local conservation projects.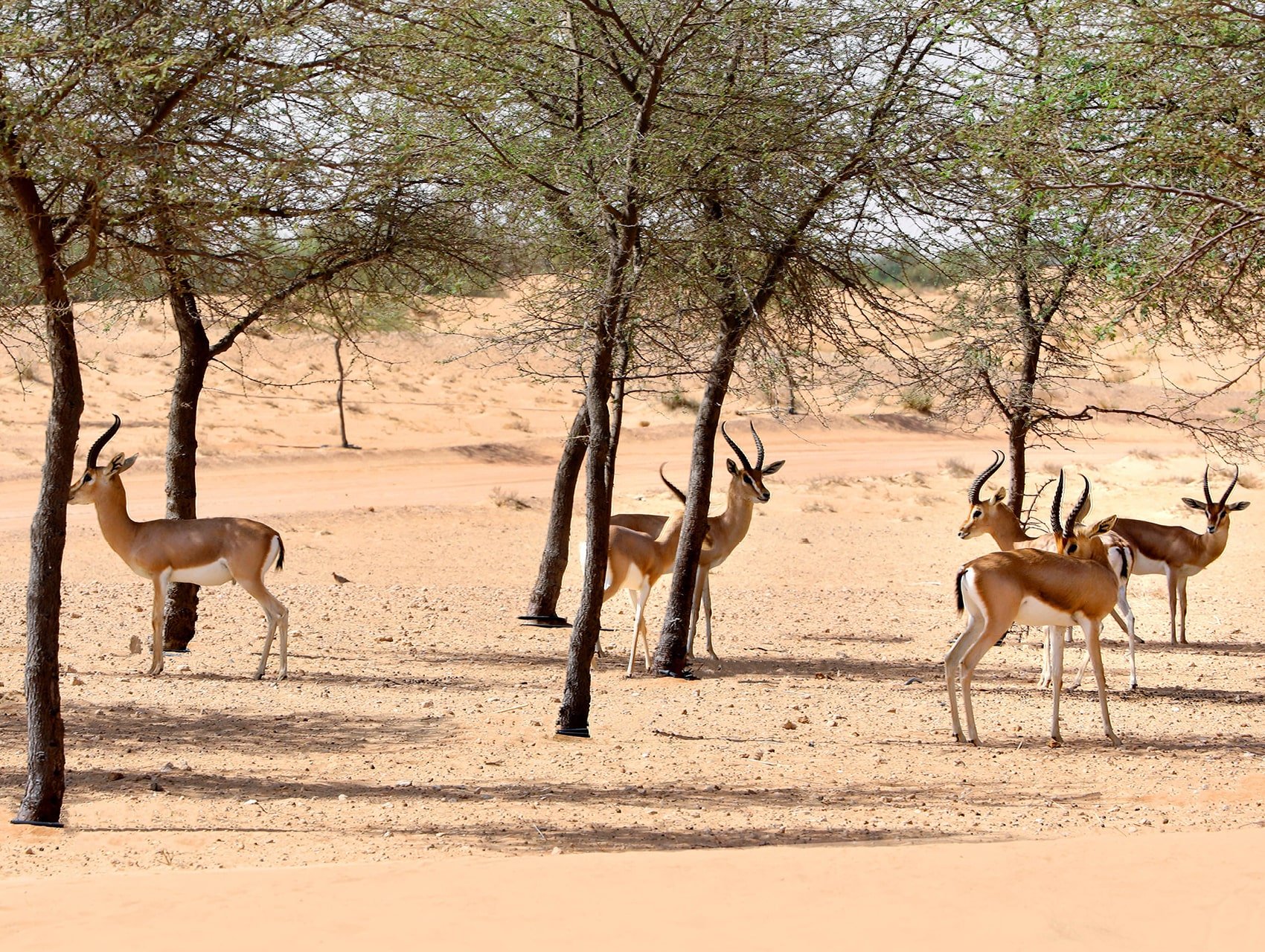 Environmental Initiatives
With our long-standing relationship with the DDCR and key focus on sustainability, the DDCR has granted Arabian Adventures special approvals for our Desert Safaris, including our best-selling Evening Desert Safari in Dubai, and their associated camps which are based there. Also our other, incredible private experiences including The Perfect Evening; for high-end desert dining. Our base in the DDCR has allowed us to continue to protect our natural habitat and desert home. Some of the ways which we ensure sustainability within the reserve is by our zero plastic initiative in which we have successfully removed all single-use plastic water bottles from our desert camp and continue to minimise the impact on the environment via garbage segregation and recycling. In addition, our expert safari guides conduct an extensive quarterly clean-up within the DDCR.
Industry Awards
All of the efforts of our extended team at Arabian Adventures to protect our desert ecosystem has cumulated in our being recognised globally for our sustainability efforts. Earlier this year we were awarded the prestigious Travelife Partner award, the leading international sustainability certification in the travel industry, making Arabian Adventures the first company in the United Arab Emirates to have received this coveted award.
In addition to the Travelife Partner award, the World Travel and Tourism Council (WTTC) recently awarded Arabian Adventures the 'Safe Travels' stamp, recognising the company for achieving high health and safety standards across its operations in the wake of the global pandemic.
Want to get more involved? The sustainability efforts don't stop with us. On one of our award-winning desert safaris, you can be involved in the conservation of the reserve by becoming a 'citizen scientist' by recording wildlife observations and reporting them back to the reserve. In addition, every time you book a desert experience with Arabian Adventures, a portion of your fee supports key local conservation projects such as the understanding of the ecology of the Arabian Oryx within the DDCR, and Pathogen Risk Assessment on Arabian felines in the UAE and Oman. With that being said, as you enjoy one of our private-desert-safaris, overnight safaris in Dubai or another of our unique and unforgettable desert experiences, in turn you can enjoy the fact that you have are contributed to the sustainably of Dubai's beautiful surrounding desert.
Become part of our sustainability story by joining an Arabian Adventures Desert Safari and experience the wonder of the Dubai Desert Conservation Reserve. Speak to one of our expert guides for more information and how you can get more involved! All of our desert safaris have the SafeTravels hygiene and safety protocols in place for your peace of mind. Book your next desert adventure at arabian-adventures.com, call us on 800-ARABIAN (2722426) or email aaonline@arabian-adventures.com.