Would you go to Egypt and leave without seeing the pyramids? The equivalent to this misstep when visiting the United Arab Emirates (UAE) would be to end your visit before stepping foot into the magical desert. No visit to the emirates is complete without spending some time discovering the beauty and tranquillity of the dunes. To make sure your desert escapade is a truly remarkable one, opt for our flagship Evening Desert Safari.
Let the adventure begin
As our entertaining guide picks you up in a four-wheel drive vehicle, you are in for a 45-minute drive full of fun facts, incredible stories and potential camel sightings. The real adventure begins as soon as you reach the Dubai Desert Conservation Reserve.
You will feel your heart racing on a thrilling dune drive, where you'll enjoy plenty of chances admire all the beautiful local wildlife. Once you've had your fair share of adrenaline, it's time to calm things down. You'll reach the magical sunset stop just in time to snap photos with the unbeatable desert sunset as your backdrop. Enjoy a few treats and refreshments, whilst immersing yourself in the beauty of your surroundings.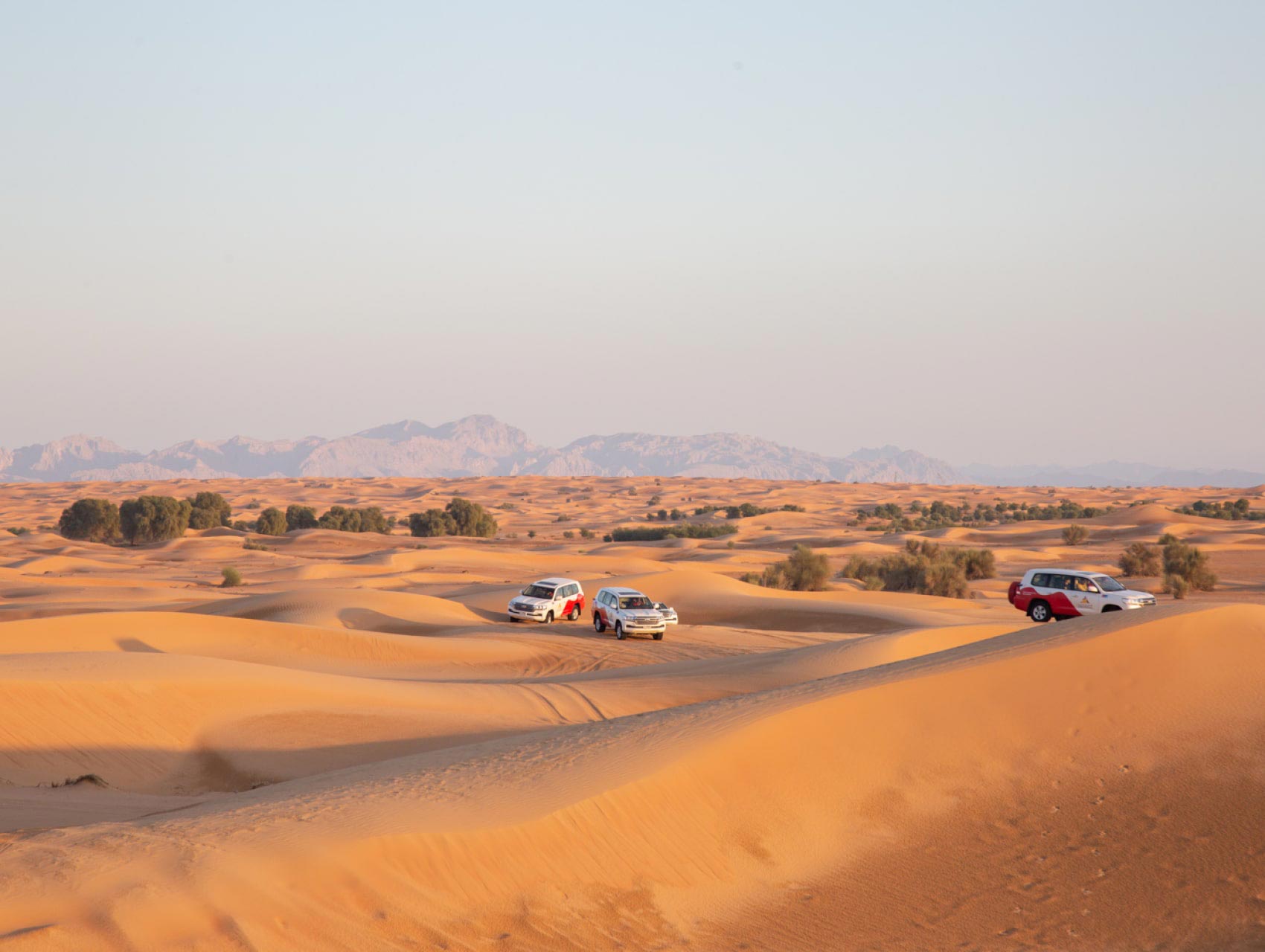 An evening to remember
As you make your way to the Bedouin-style campsite, you'll be greeted with juicy dates and a cup of hot Arabic coffee. Choose your preferred means of transportation – hop on a camel or find your balance sliding down the dunes on a sand board. If you're up for it, why not give both challenges a go!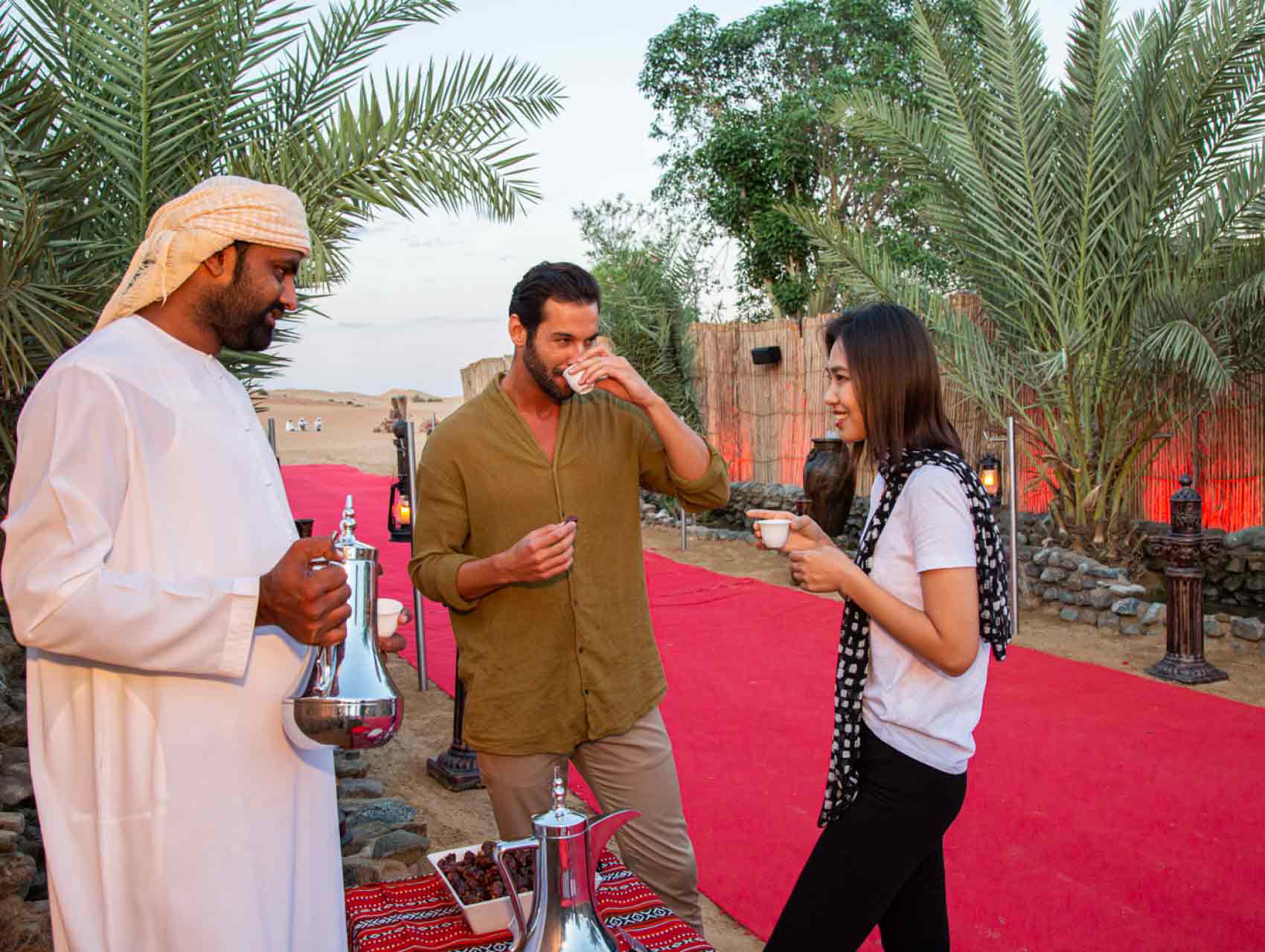 You won't be able to help but feel at peace, whilst exploring the mesmerising campsite, lit up by torches and beautiful night lights. Admire the skills of a local sand painter, snap photos in local dress, and get your hands painted by a professional henna artist to make the memories of this magical evening last longer.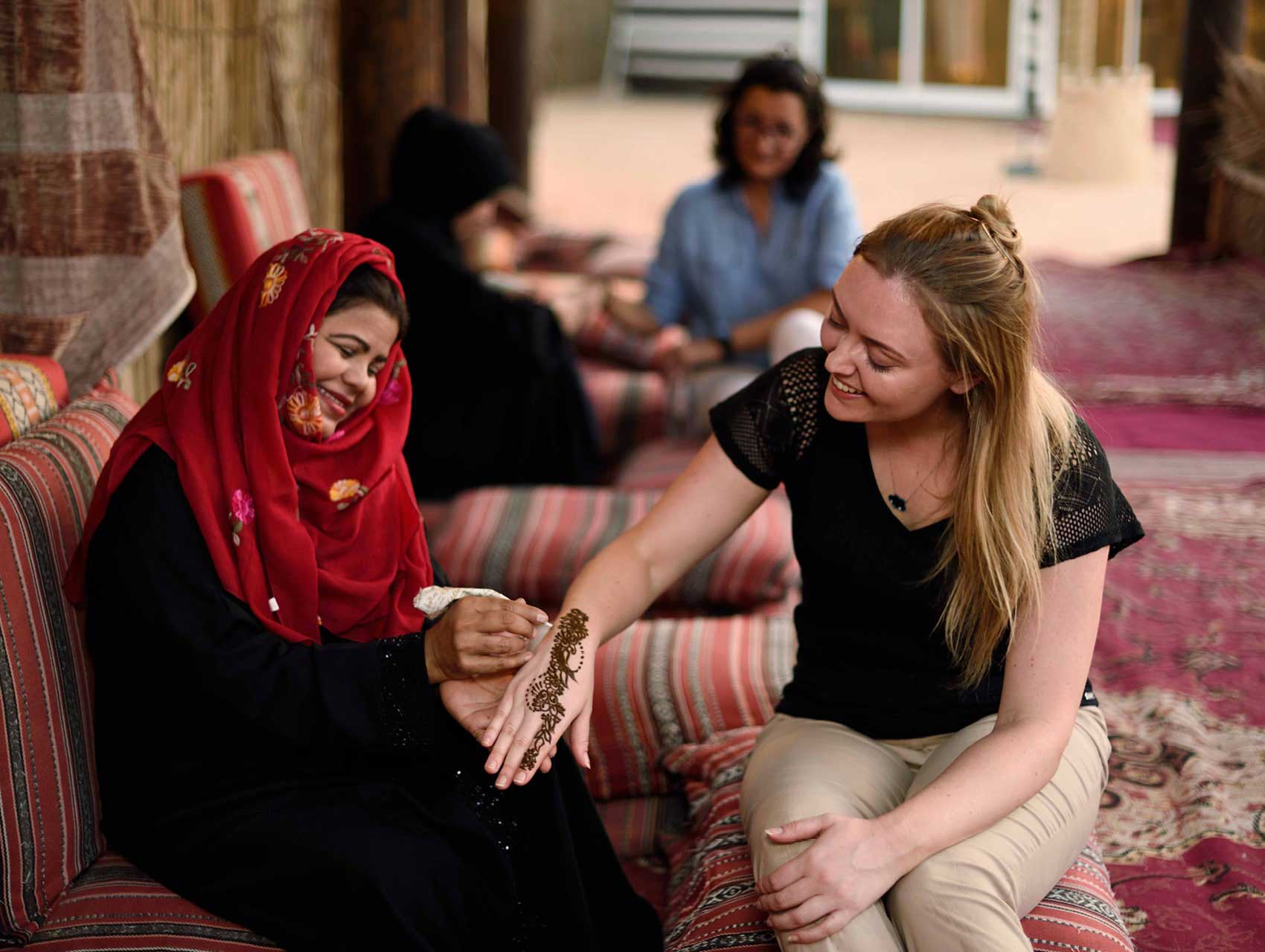 By now, it is probably impossible to resist the enticing aromas coming from the grill. Make your way to the buffet and fill your plate with all the delectable foods on offer. With an array of dishes to choose from, we have made sure there is a plate suitable for every palate. While booking your adventure, you can choose your preferred beverage package to compliment your dinner. Opt for a Soft Package including mineral water and soft drinks, House Package including house wines and beers or go for a Premium Package including wines, beers and premium spirits.
As you sit back and enjoy your three-course dinner, you'll be taken on a head-spinning journey by the local entertainers taking the stages. Try to keep your head on straight as the Tanoura dancer amazes you with his jaw-dropping skills and clap along with the beautiful belly dancer. The evening is guaranteed to heat up once the fire dancer gives his outstanding performance.
Before heading back to the skyscrapers, take a moment to fully immerse yourself in the peacefulness and magic of the desert by gazing at the star-filled desert sky.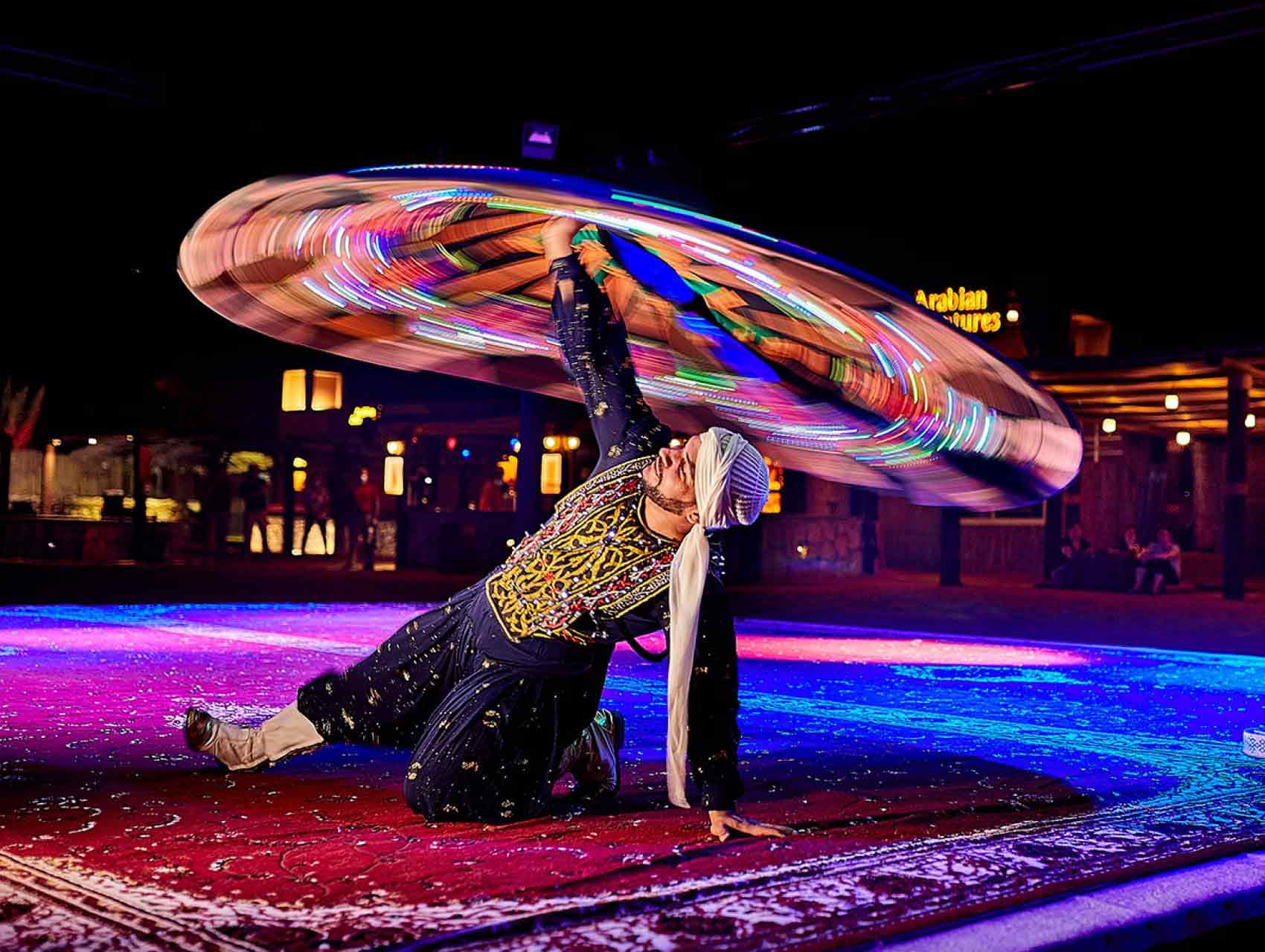 A good experience for all
Arabian Adventures is dedicated to making sure all of our experiences follow the highest safety and sustainability standards. To make sure we do our part in preserving the environment, a portion of your fee is directed towards sustaining the Dubai Desert Conservation Reserve. Not only will you leave feeling amazed by the adventure you've experienced, you have also done your part to help preserve the local nature.
The Arabian Adventures Evening Safari is an iconic Dubai evening desert safari and one of the only ones available with access to the wonderful Dubai Desert Conservation Reserve. Choose your beverage package and we won't ask you to pay for any desert activities on the safari. All of our desert safaris have the Safe Travels hygiene and safety protocols in place for your peace of mind. Book at arabian-adventures.com, call us on 800-ARABIAN (2722426) or email aaonline@arabian-adventures.com.