A visit to the UAE isn't complete without an evening desert safari in Dubai. The desert is always magical, but make sure to select a desert safari which includes all of the added extras that make for a truly unforgettable experience, including all of the exciting and traditional Arabian Desert activities, entertainment, and the chance to sample dishes from around the region. This culturally rewarding experience in the great outdoors is the perfect complement to sightseeing in the modern and futuristic city of Dubai.
With so many options to choose from, our adventure experts are sharing their insights into how to select the best desert safari in Dubai, focusing on four essential features: sustainability and conservation, health and safety, guide knowledge and ensuring a wonderful, once-in-a-lifetime experience – which you are guaranteed to expect from the award-winning options from Arabian Adventures, the UAE's leading destination management company.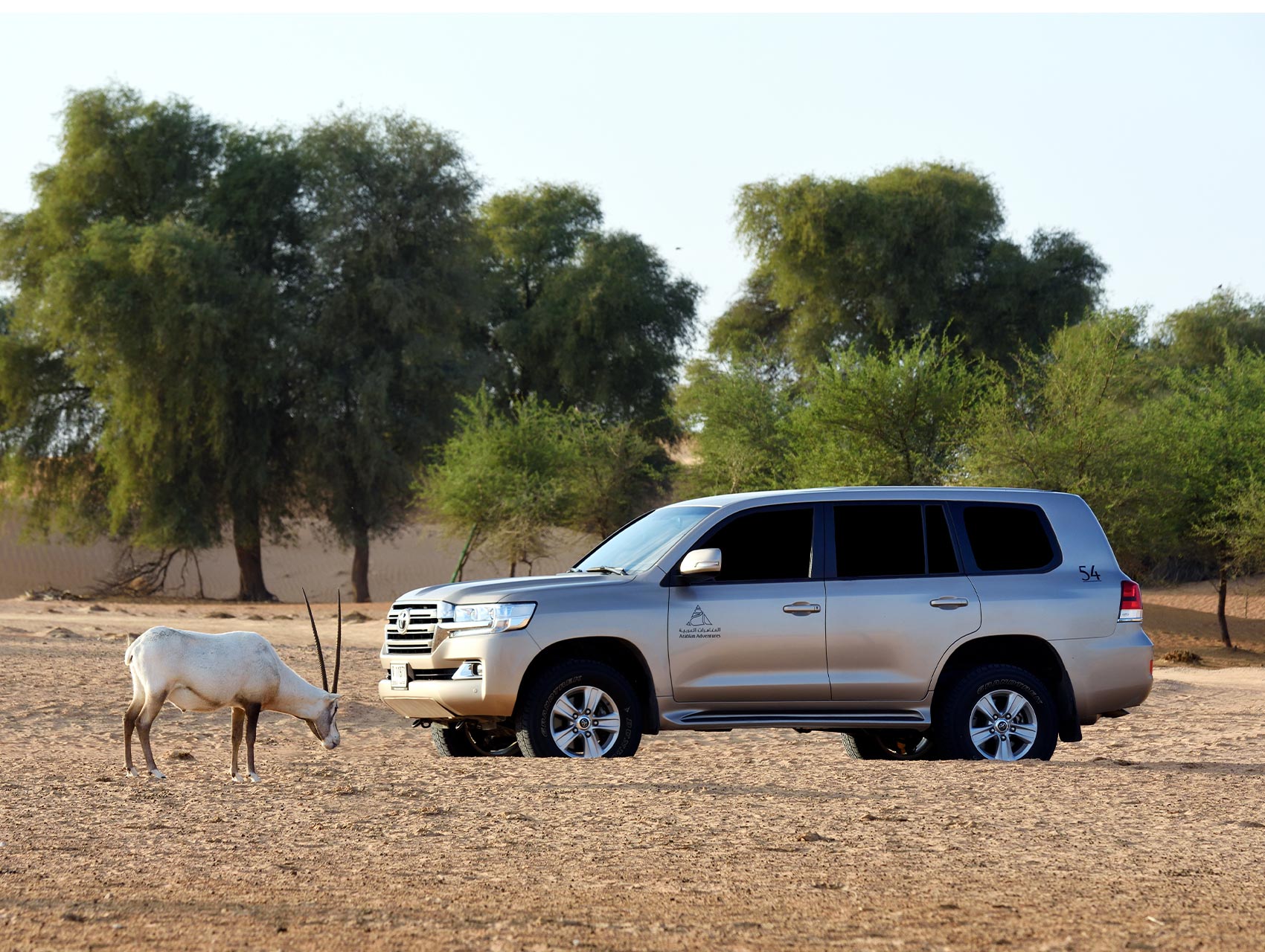 Sustainability and conservation efforts
Sustainable tourism is a growing priority for travellers around the world. We all must work together to protect the incredible and valuable planet in which we call home. When selecting activities to enjoy on holiday, regardless of your destination of choice, considering sustainability and conservation efforts is more important now than ever before.
At Arabian Adventures, we have implemented several key sustainability initiatives, all overseen by a dedicated in-house Sustainability Manager and Green Team. These initiatives have significantly reduced single-use plastics from all of the desert safari options which we run, and garbage from the desert camp is recycled. At Arabian Adventures, our desert animals which live in the Dubai Desert Conservation Reserve are an important part of our extensive team, and have access to the five freedoms outlined in the Global Welfare Guidance for Animals in Tourism. Read more about Arabian Adventures' sustainable tourism initiatives here.
Arabian Adventures is committed to conserving the environment. Most of our desert safaris operate in the Dubai Desert Conservation Reserve, the UAE's first national park and a portion of each safari fee is donated to support local conservation efforts. While wildlife can sometimes be elusive, looking out for Arabian Oryx, Sand Gazelles and even the Sand Fox is a true highlight of the Evening Safari experience.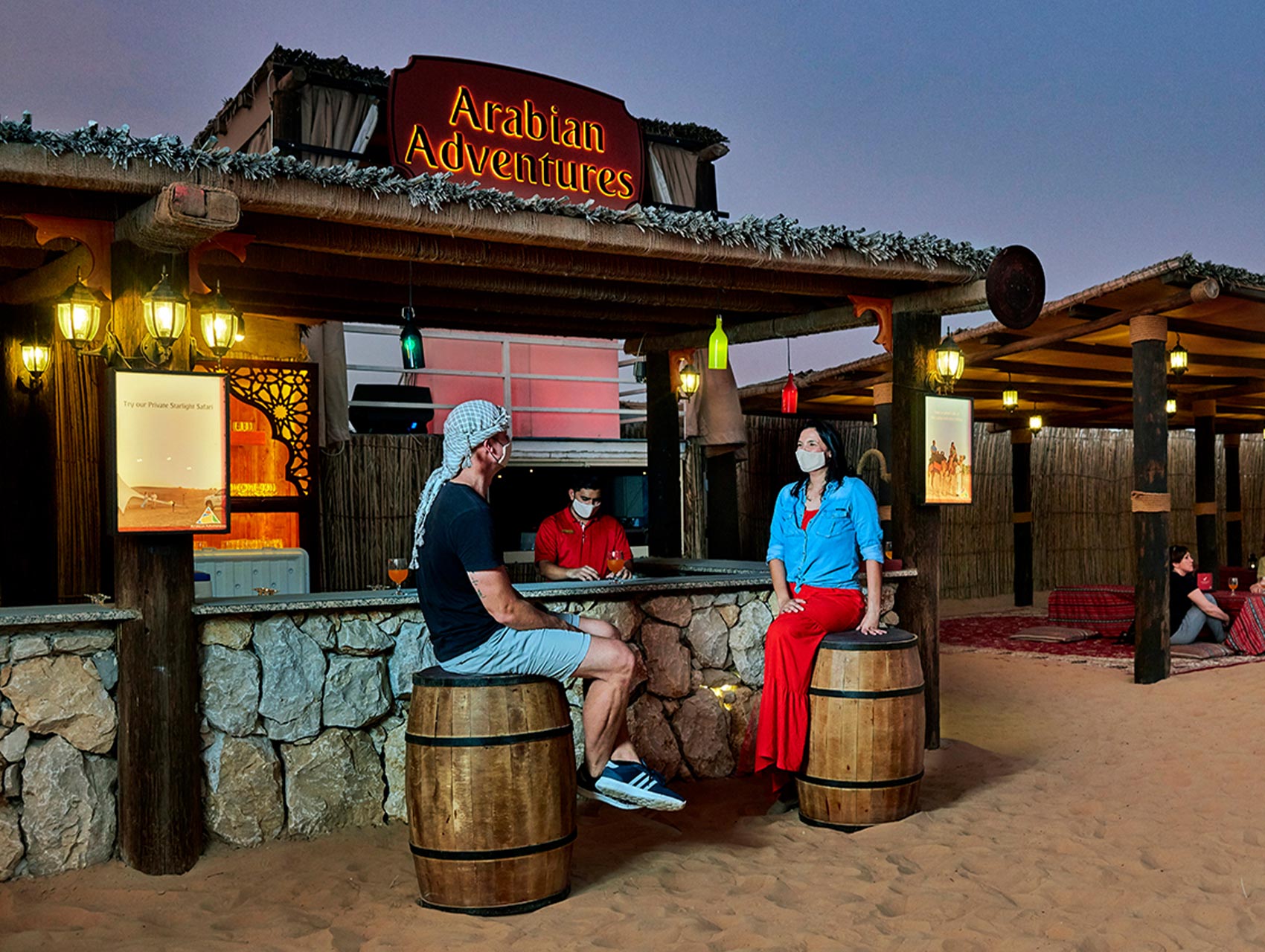 Health and safety
As part of the Emirates Group, the highest levels of health and safety are assured with Arabian Adventures. With all of the licences, insurances and permits required by Dubai Tourism (DTCM) in place, guests can enjoy a hassle-free experience, in safe hands. Guides are trained in first aid, carry first aid kits and mobile phones and cars are fitted with GPS trackers – important considerations on any trip into the vast landscape of desert dunes.
Adhering to local guidelines and regulations, Arabian Adventures has also taken several measures to ensure enhanced traveller safety and well-being with complete peace of mind on all safaris in wake of the global pandemic. The World Travel and Tourism Council (WTTC) has awarded Arabian Adventures the 'Safe Travels' stamp, recognising high health and safety standards. The 'Safe Travels' stamp was created in 2020 to help travellers identify companies and destinations around the world that follow WTTC's standardised health and hygiene protocols.
Safari guide knowledge
With excellent local knowledge, our safari guides can share interesting insights and fun facts on every Arabian Adventures' desert safari to enrich the experience. Impressively, most have achieved the higher level certification from the Dubai Desert Conservation Reserve and have extensive knowledge of the local wildlife, flora and fauna that are based across Dubai's majestic desert landscape, and the best routes to take you to experience the best of its beauty. They can also keep you informed of the best places to go across the city, and some of its hidden gems within its surrounding desert and mountain landscapes including traditional villages, beautiful wadis and more.
A magical Evening Desert Safari experience
Backed by these all-important features, it's no surprise that the Evening Safari with Arabian Adventures in the Dubai Desert Conservation Reserve is one of the top things to do for international tourists arriving in Dubai, and should not be missed on a visit to the city, with visiting friends and family, or for residents of the UAE who haven't yet had the chance to spend a magical evening in the desert.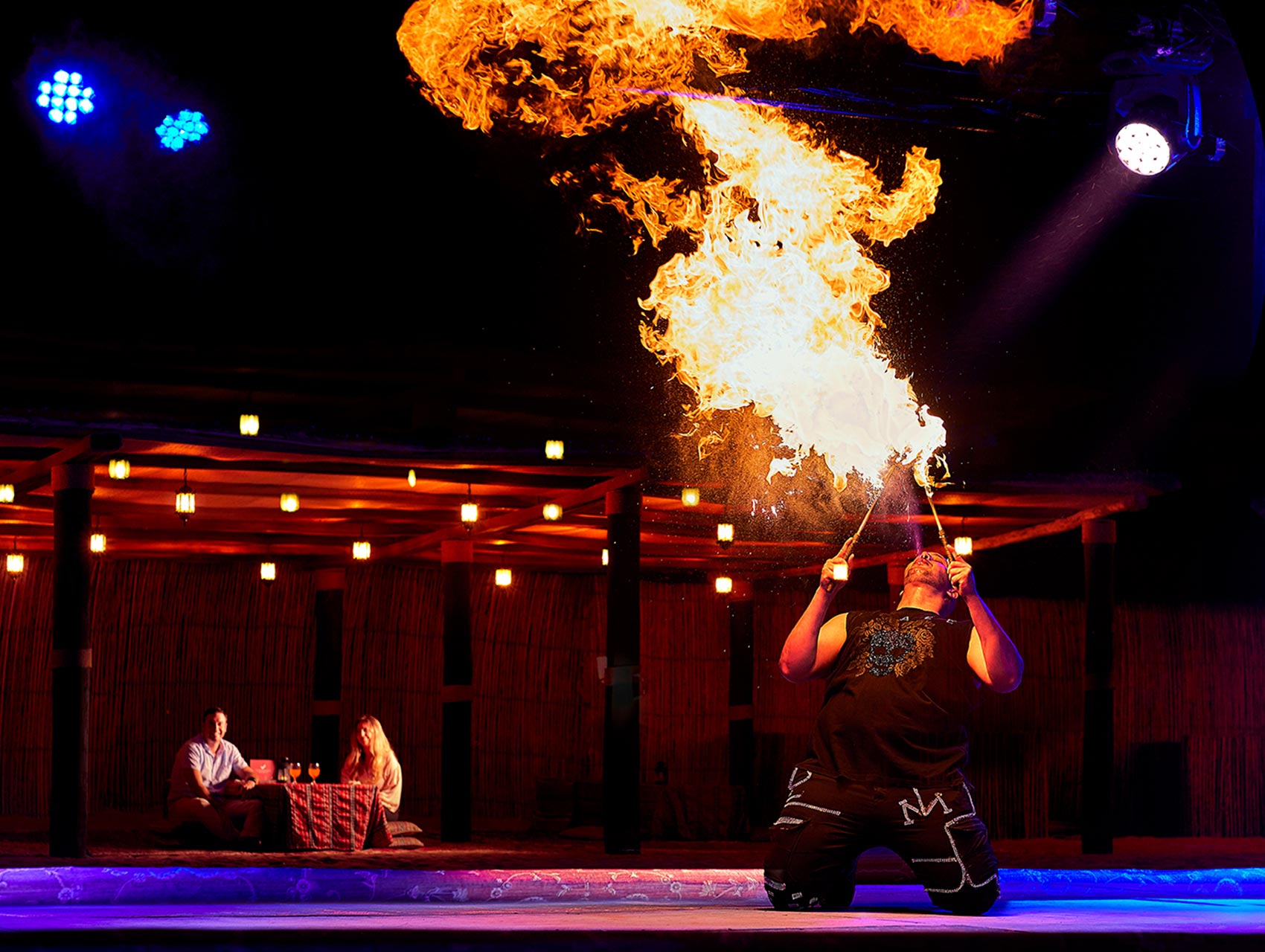 Our Evening Desert Safari experience includes pick-up and drop-off, wildlife sightings, an exciting dune drive, a camel ride, sandboarding, and falcon viewing. A picturesque sunset stop with the backdrop of an unforgettable Arabian sunset against the sand dunes and attractive, traditional campsite are the perfect spots for those Instagram posts too. Relax at the camp and dine on a three course dinner that features dishes from around the region and sit back to watch the fire dancers, Tanoura dancer and belly dancer perform. Sip beverages from a choice of beverage packages included in your choice of safari. You can enjoy your experience with peace of mind that there are no hidden fees or upgrade costs, to ensure that you enjoy the best that the incredible Dubai desert has to offer.
The Arabian Adventures Evening Safari is the iconic Dubai evening desert safari and one of the only available with access to the wonderful Dubai Desert Conservation Reserve. Choose your beverage package and we won't ask you to pay for desert activities on safari. All of our desert safaris have the Safe Travels hygiene and safety protocols in place for your peace of mind. Book at arabian-adventures.com, call us on 800-ARABIAN (2722426) or email aaonline@arabian-adventures.com.