A thrilling 2-hour buggy adventure
A thrilling 2-hour buggy adventure
Desert Buggy Adventure in Dubai - Evening Run
Desert Dune Buggies - Passenger Experience - Evening Run
Trying to find an adventurous way to experience the magic of the Dubai desert? Then look no further than the Arabian Adventures Dune Buggy Adventure in Dubai!
Get outdoors and explore the desert dunes in the latest 4-seater Can-Am desert dune buggy as a passenger, driver in a shared buggy or in a private buggy, following our expert guide. This dune buggy driving experience is far from your average adventure, as you will be driving across the sand dunes in a specially designed off-road vehicle. You will get to fully immerse yourself in the desert environment, as you drive through some of the most stunning and picturesque landscapes in the world.
What's included
Hotel pick-up and drop-off in a shared vehicle
Two-hour dune drive as a passenger, driver in a shared buggy or in a private buggy based on your selection:

Passenger experience: Guests will experience the buggy ride as a passenger only and will not drive themselves.
Shared driver experience: Guests will share the same buggy and driving roles with other guests at different time intervals.
Private buggy experience: Guests will drive their own buggy for two hours.

Safety gear and instructions
Driving instructions
Soft drinks and refreshments
The Facts
English

Daily (various departures)

Year round

Sports shoes are recommended

Two hours in the dune buggies

Shared transfer in a 4-wheel drive Land Cruiser or similar. Can-Am four-seater dune buggy in the desert

Moderate

12 noon

4 pm
Your guide will lead you on this exhilarating ride across the sand dunes, as you enjoy unbeatable views and photo opportunities along the way.
We provide everything that you need – safety gear, a buggy-driving tutorial and refreshments. You don't have to worry about getting to the desert either, as hotel transfers are included as well.
This is definitely an adventure that you will never forget, and the perfect way to immerse yourself in the true beauty of Dubai's desert landscape. So what are you waiting for? Book your Arabian Adventures Dune Buggy Adventure today!
Good to know
A security deposit of AED 5,000 (by cash or credit card) will be collected at the venue prior to the start of the Dune Buggy Adventure. Once the experience is complete with no damages, this amount will be returned to the guests in full.
Drivers may be asked to stop the buggy and rotate drivers should the guide deem that guest are driving poorly or intentionally unsafe.
All transfers to the buggy experience are shared.
Modest dress and comfortable walking shoes are recommended.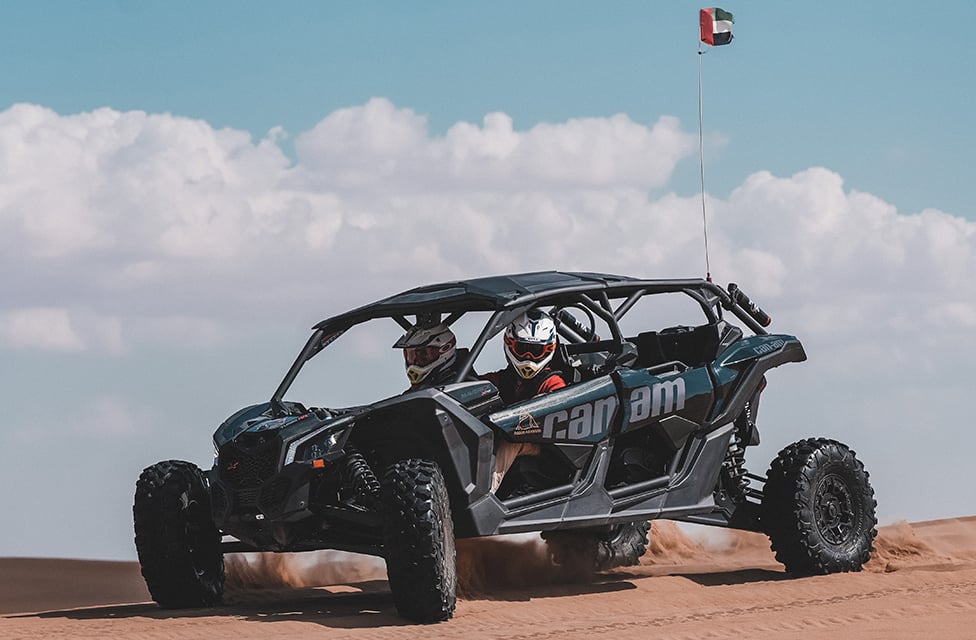 Best for
Couples
Families
Single Travellers
Leisure Travellers
Business Travellers
Age Policy
Drivers should be at least 18 years of age and possess a valid driver's license from their home country.
Non-driving passengers joining the lead buggy have to be at least 14 years old.
Children between the ages 6- 13 years can join the experience as non-drivers, however, they need tobe seated in a private buggy along with the adult accompanying them.