As the winter season fast approaches, both UAE residents and visitors alike are starting to spend more time outside. With school breaks and holiday seasons on the horizon, and friends and family starting to visit, it's the perfect time to explore all of our top experiences.
At Arabian Adventures, one of the UAE's leading destination management companies, our team of destination experts can help you find the perfect Dubai desert safari, whatever your adventure level. In this blog, we'll give you an overview of top picks that will leave you and your visitors inspired, exhilarated, recharged, and fulfilled…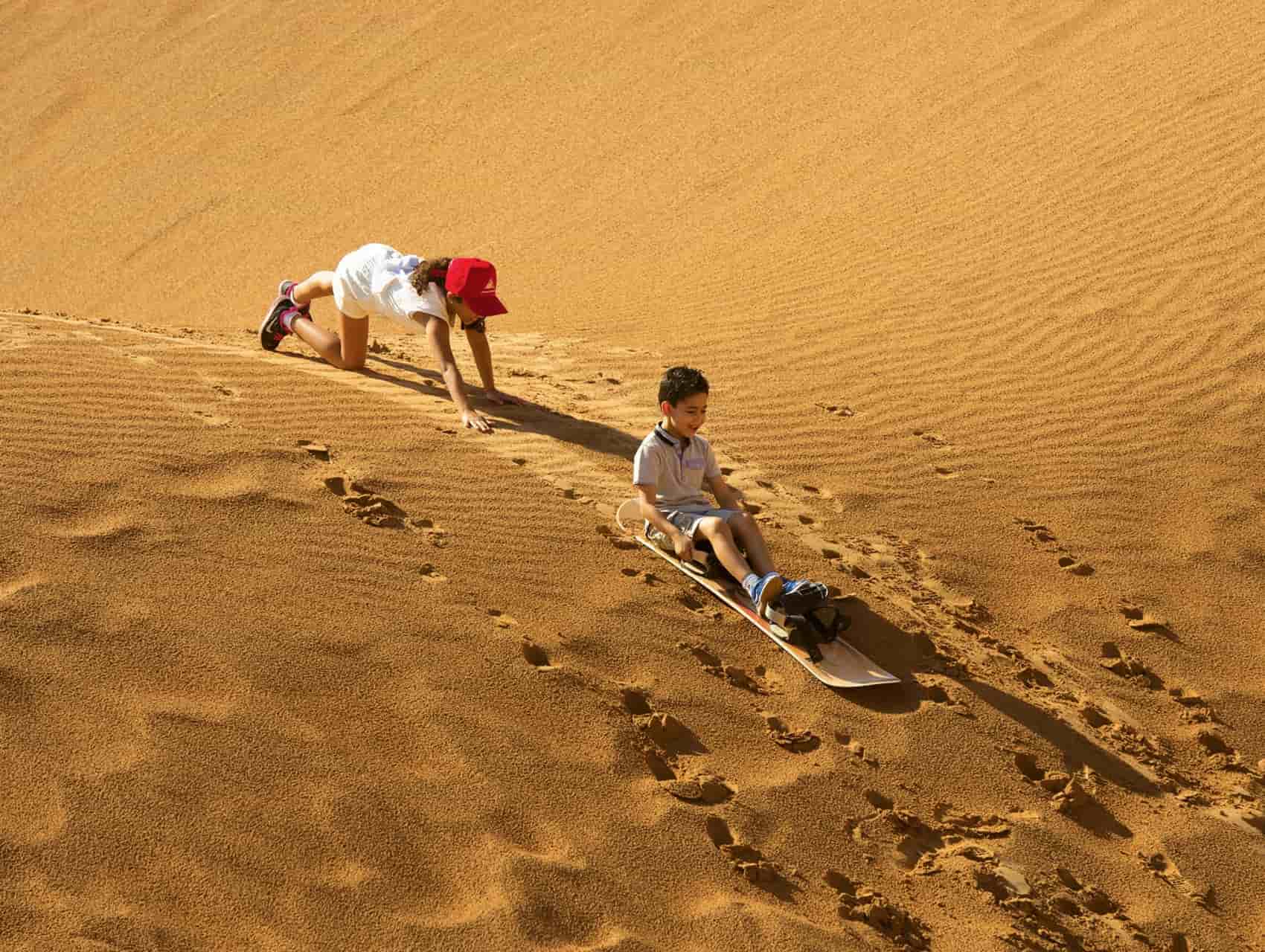 The family adventure:
Entertain the early risers and share a wonderful morning of excitement with friends and family on our Morning Desert Adventure, captivating the entire group with a variety of exciting desert activities. After being collected from your hotel, or place of residence, you will be chauffeured via 4x4 into the beautiful, untouched Dubai Desert Conservation Reserve (DDCR), where you'll start with an exciting dune drive. Spot the local wildlife and stunning dune-filled horizon as you climb the dunes from the comfort of your vehicle. Afterwards, test your sandboarding skills on one of the many pristine dunes. The excitement doesn't stop there: take a ride on a camel to our campsite where a light and refreshing breakfast awaits, before you are chauffeured home again, taking with you desert memories to last a lifetime.
The adventurer:
If you're seeking a truly thrilling day in the desert, then we have an excellent option for you. Push your adrenaline to new heights on our Dune Buggy Adventure. The experience starts as you discover all about our Can-Am dune buggies in a full safety briefing from our expert guide. Familiarise yourself with a driving tutorial, then learn all about the buggy's safety features such as seat belts, roll cages, and off-road suspension. Kit up with your own safety gear including disposable balaclavas, helmets and goggles, before being shown the exciting route that awaits.
Following our expert guide in your own turbo-charged automatic 4x4 Can-Am desert dune buggy, you'll be led deep into the expansive dunes, before unleashing true excitement as the guide moves the adventure up a gear, with the buggies reaching speeds of up to 80 km/hr. You're guaranteed an once-in-a-lifetime, thrilling two-hour desert adventure.
There are three driving experiences to choose from to meet every level of adventurer. You can leave the driving to someone else with the Passenger Experience, and our guides will take the wheel. Or choose the Driver Experience - Shared Buggy, where you can share the driving with a fellow passenger, alternating time at the wheel with a rest and switch stop each 30 minutes. For the true adrenaline junkies, the Driver Experience - Exclusive offers the dedicated use of the buggy for you and up to three friends.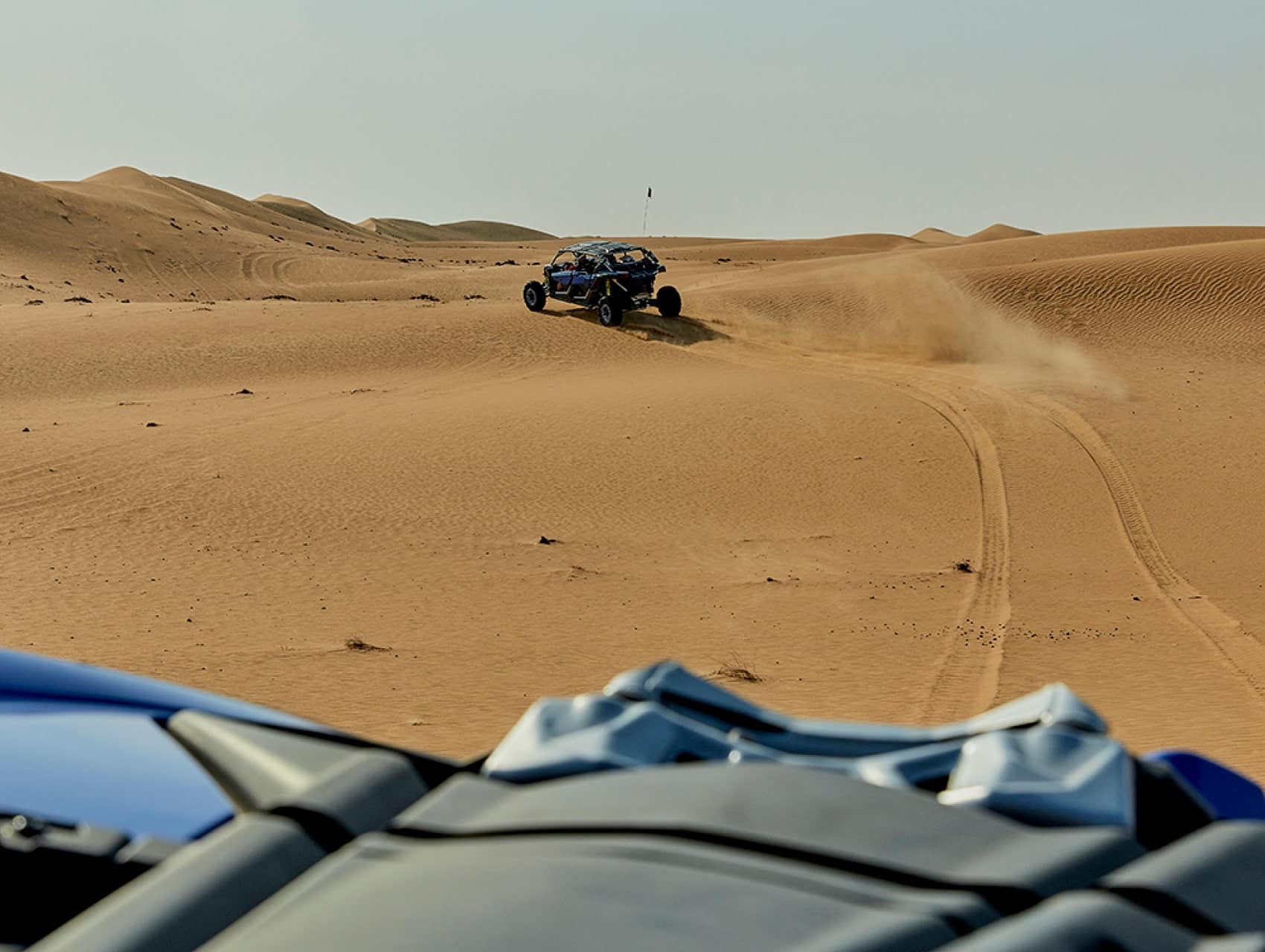 The serenity seeker:
There is nothing quite like sitting in the breath-taking nature amongst the desert sand dunes looking up at the clearest night sky, with little more than a soft desert breeze in the air. If escaping the hustle and bustle of city life is what recharges you, we have the perfect range of desert safaris to suit.
Our Private Desert Experience provides an escape into the romance of Arabia like no other.
Enjoy a secluded dinner at your own private camp setting, deep within the desert landscape. After a private chauffeur drive from your hotel or place of residence, arrive at the DDCR where you'll be taken through the desert dunes in luxury and comfort. The serenity really kicks in as you traverse the dunes on camel back towards the idyllic setting of your private camp. Enjoy a delicious three-course BBQ inspired by the regional fare served at your table by your very own private waiter. Following the sumptuous dinner, relax fireside in your very own luxury-cushioned seating area and take in the peaceful setting and unrivalled beauty of the nature around you.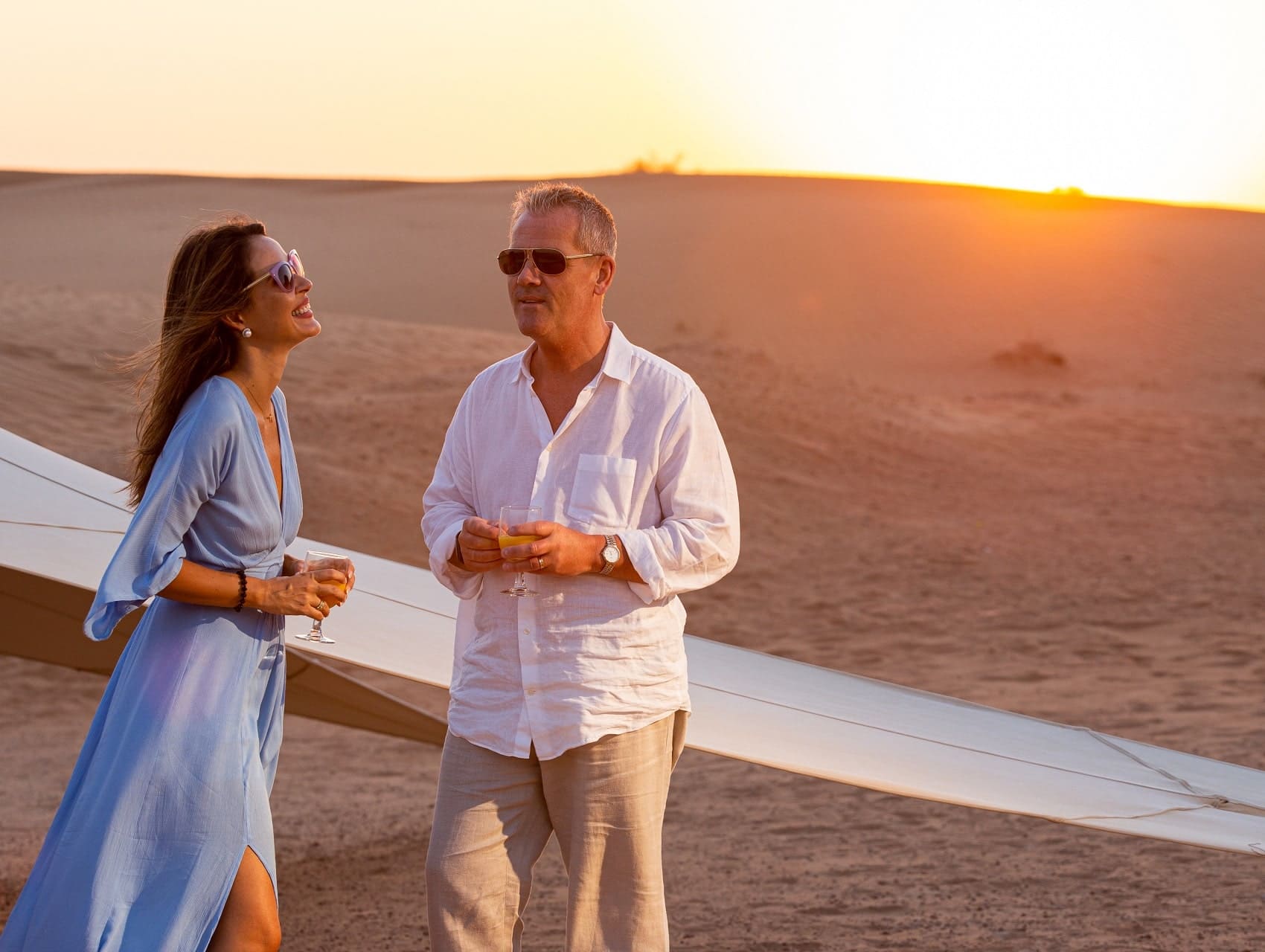 Whichever of Arabian Adventures' Dubai desert safaris you choose, your adventure will be personalised, seamless and positively unforgettable. Our expert guides with unrivalled local knowledge and award-winning service are here to cater to all of your desert needs.
Can't wait to experience the Arabian desert? Book your next adventure today at arabian-adventures.com, call us on 800-ARABIAN (2722426) or email aaonline@arabian-adventures.com. All of our desert safaris have been awarded the 'Safe Travels' stamp, ensuring the highest level hygiene and safety protocols are in place for your peace of mind.