Miracle Garden
📢 Please be advised that Miracle Garden Dubai will be closed for the summer season from 5th of June.
If you're looking to add a touch of magic to your adventures, head to Dubai Miracle Garden. Over 150 million blooms and blossoms await at the world's largest natural flower garden. This record-breaking, sweet-scented venue is the perfect place to stop and smell the roses – and various other flowers, for that matter.
What's included
Entry to Dubai Miracle Garden
The Facts
English

Wheelchair accessible

Seasonal

2-3 hours (9am-9pm Monday-Friday; 9am-11pm on weekends)

None

Modest dress, comfortable shoes
A true must-visit for all tourists and residence alike, the world's largest flower garden transports you from the hustle and bustle of the city to a magical venue showcasing jaw-dropping flower structures and arrangements. From gigantic teddy bears to an Emirates Airbus A380 built entirely from flowers, Dubai Miracle Garden promises endless unbeatable photo opportunities and a chance to feel like a character straight out of a fairy tale.
Catch some shade strolling down the Umbrella Tunnel, soak up the sun in the Sunflower Field, or let your inner kid run free as you explore the colourful Smurf Village. With a number of dining options available, guests can rest and refuel before continuing their blossom-packed journey through the mesmerising venue.
Open from October to the end of April, each year Dubai Miracle Garden wows visitors with new extraordinary flower sculptures and setups. With over 150 million flowers, the 72,000-square-metre paradise is undoubtedly one of the region's most picturesque destinations. Since the Garden gates first opened in 2013 on Valentine's Day, the spectacular sweet-scented venue has become one of the most visited attractions in Dubai. With exceptional entertainment (think Flower Parades and Zumba sessions), a Kids' Play Zone, and a variety of food choices, Dubai Miracle Garden is the perfect place for guests of all ages.
If you're looking for a truly extraordinary and unforgettable experience in the UAE, Dubai Miracle Garden is just your ticket.
Good to know
To reach the park via public transportation, take bus route 105 from Mall of the Emirates metro station to Dubai Miracle Garden
Parking is available for visitors to the park
Visitors are advised to wear comfortable clothing and shoes. Hats, sunglasses and sunscreen is recommended.
Operational hours: 9am-9pm Monday to Friday, 9am-11pm on weekends.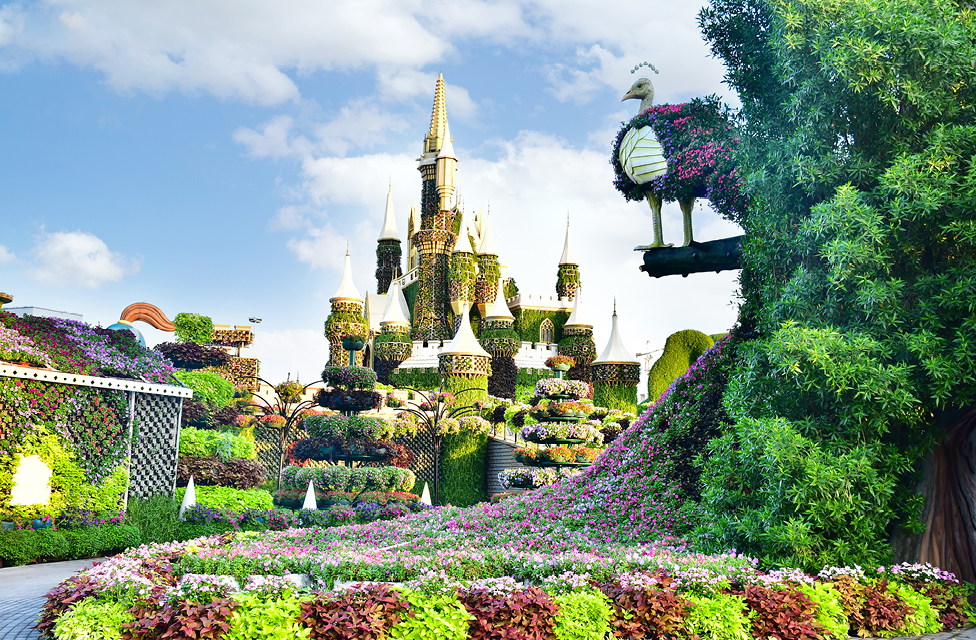 Best for
Couples
Family
Kids
Solo travellers
Leisure travellers
Business travellers
Age policy
Children under the age of 3 years old can enter the attraction for free.
Child pricing is applicable for children between the ages 3-11 years.
Adult pricing is applicable for visitors from the age of 12 years.